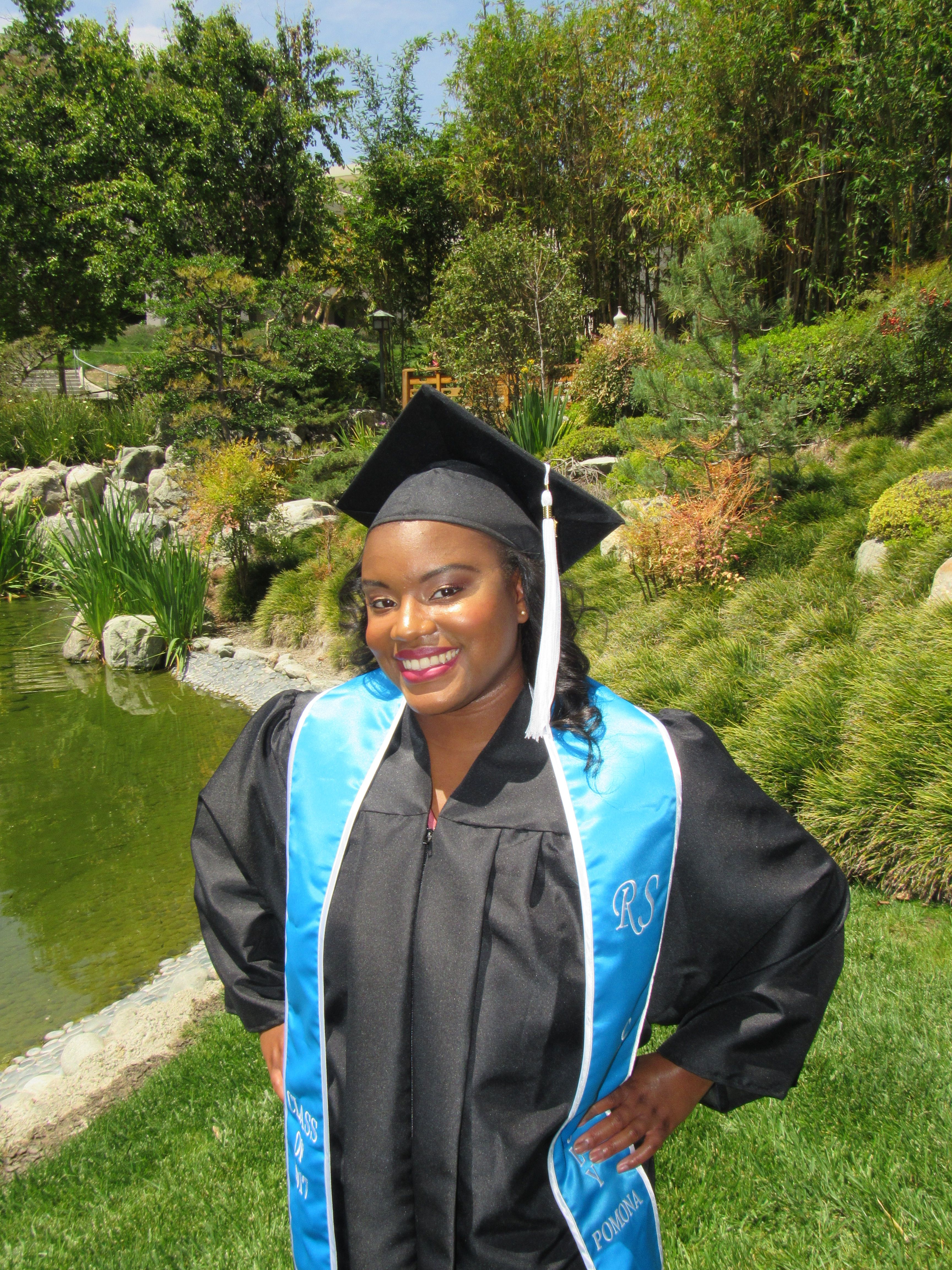 Joy Clarke's recent graduation from Cal Poly Pomona with a bachelor's degree in sociology with an emphasis in social work – she's the only one out of her eight siblings to graduate from college – is a testament to her laser-sharp focus on her future.
"I'd always been in individual foster homes, as opposed to a group home like David & Margaret," says the 24-year-old, whose energy and enthusiasm are evident as her words tumble out. "I was put into foster care when I was 2 years old, where I grew up in the system, including kinship."
Thanks to what she describes as "a really skilled social worker who made sure I was really okay," she was placed at a foster home in nearby Claremont and graduated from Claremont High School. "I went to four different high schools, but I always loved school and knew it was the only way out of being neglected and being let down by people," she says.
Emancipation from the Transitional Housing Program at age 23 was a hard dose of reality, but Joy was accepted into Cal Poly Pomona's Renaissance Scholars program, which provides current and former foster youth with critical educational resources and a supportive environment that are key in assisting them to obtain their bachelor's degree. The program meets the needs of students by providing workshops, mentoring, tutoring, academic advising, life skills seminars, year-round housing, financial assistance, educational enrichment, and community building activities.
She lived on campus for her freshman year, but wanted to "get out of the bubble of just going from my dorm room to my classes and back," so she applied for and was accepted into David & Margaret's Transitional Housing Program. The program, which lets her live in the community instead of on the school campus, provides housing and supportive services for youth aging out of foster care. As long as the youth are in school or working, they will have housing for the length of the program. (Joy chose to do both work and attend school.) They have weekly check-ins with their case manager and are strongly encouraged to participate in life skills and career readiness classes. They are also provided with an allowance for food, clothing, and a gas card or bus pass for transportation.
"When I got into THP, it laid a foundation by giving me a roof over my head," Joy says. "I took advantage of the life-skills classes they offer and learned how to establish credit, how to cook, how to use public transportation because I didn't have a car. That was humbling. I got food and a clothing allowance along with working, which enabled me now to be responsible for my own apartment and to buy my own car," which she still proudly drives. 
Joy's first job was at a McDonalds, and she later got a paid internship through THP at another nearby restaurant, where she learned how to function even more effectively in the workplace. Wanting to advance her career, she began combing the internet for local jobs in social work. "Oddly, no one told me that there was a counselor job open at David & Margaret," she says with a smile. "I saw that they were hiring, so I applied. I wanted to give back because David & Margaret has helped me so much. I have no shame in talking about my story because I could help another youth overcome the stigma of being a foster youth. And David & Margaret appreciates diversity – they welcome everyone as they are. I love this place."
She is now a newly minted counselor in one of the agency's on-campus cottages, working with adolescent girls in the Transitional Shelter Care Program. While tackling her job, her main goal is to "just understand where these girls are coming from and be their support system. If a client has an outburst, I try to understand why and help them to prevent more triggers by doing activities together, and building a positive relationship. I find the youth pretty amazing and cool." And with her personal history, ambition, education, and now job experience, Joy Clarke is well on her way.
Know someone who might benefit from our Transitional Housing Programs? Click here for more information. To find out about our Youth Workforce Training Program, click here.