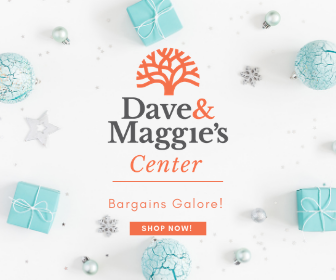 Dave & Maggie's center is stocked and the staff is waiting to welcome you for your holiday and everyday shopping needs! You won't want to miss out on all the great deals. There are many many items that will make great holiday gifts, but hurry in as once our inventory is gone, its gone! There are new items hitting the shelves everyday and stopping by often is a great strategy to score some amazing holiday deals! 

You never know what types of items you will find at the store. Some days you may find holiday gift wrap and decorations, name brand clothing and fashion shoes. Another you may find children's toys, fresh bakery items, and stocking stuffers. One thing for certain you will always find a an amazing deal! The Dave & Maggie's team works hard to find the best products at the lowest prices. The staff is always happy to help you and are ready to answer any questions. 

Did you know that when you shop at Dave & Maggie's Center you are supporting at-risk youth and families here in our community? The proceeds from your purchases directly support David & Margaret Youth and Family Services. Your purchases support children with a history in the foster care system, young adults aging out of foster care, school age children who rely on David & Margaret for mental health services and much more. When you shop at The Center not only do you find great deals for you and/or family but you are also supporting those in our community who need it the most! If you would like to learn more about Dave & Maggie's Center you may do so on the website. 

Amidst the COVID-19 pandemic, policies and procedures have been put in place to ensure the safety of our guests and staff.  Every morning from 10am - 10:30 am Dave and Maggie's Center is open to patrons over the age of 55 and those with a compromised immune system only. During regular hours, the Center is allowing 10 guests to shop in the store at a time, ensuring customers have the space they need to properly social distance. Plexiglass partitions have been installed at check-out and all employees are provided with equipment to maintain the safest and healthiest environment for our community.  Staff is also frequently cleaning to ensure a safe environment for all.  And finally, masks are required via county orders. 

Dave and Maggie's Center is located at 1351 Palomares, La Verne, CA 91750. We are open Tuesday - Saturday from 10am-4pm, offering household items as well as perishables, pantry staples, over the counter medicine, apparel and so much more.