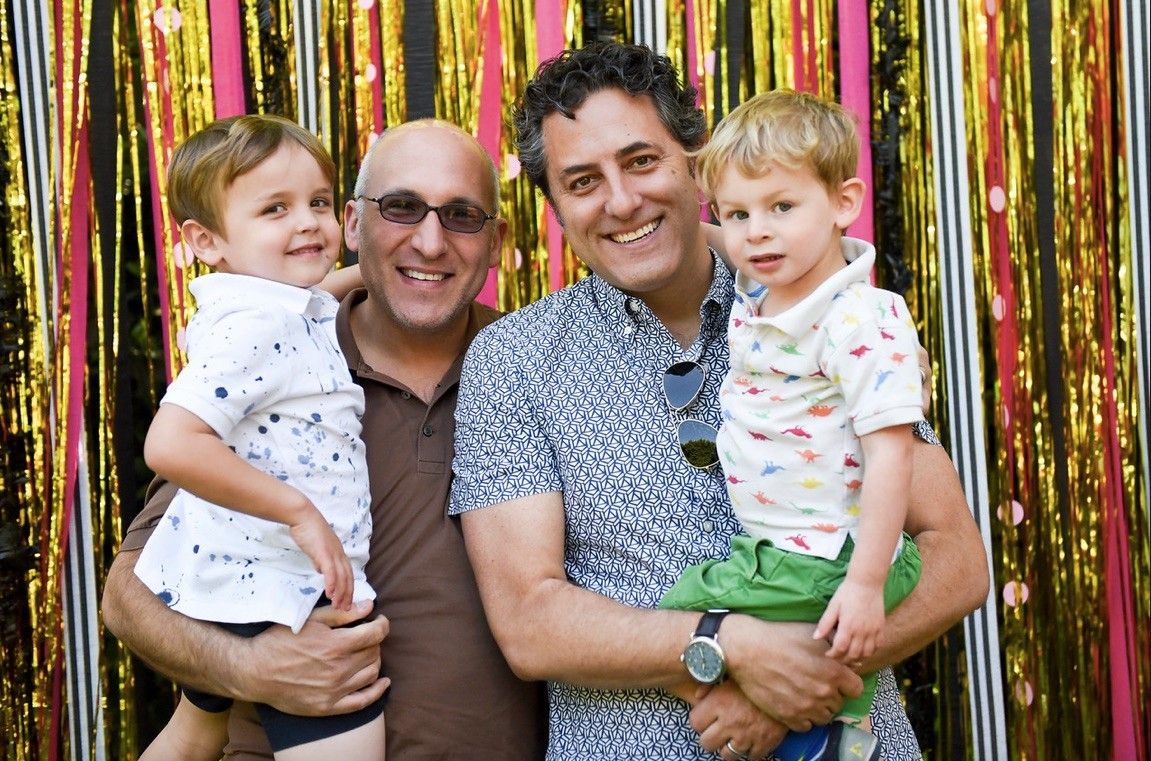 In honor of Pride Month and Father's Day we have asked Peter Gandolfo, an executive coach with www.GandolfoGroup.com and a father of two, to share his path to parenthood and how interconnected that path was to his coming out as a gay man.
My path to fatherhood appears straight-forward, but only with the benefit of hindsight. When I was in it, trying to build a family, it didn't always seem likely, or even possible. I'd known I wanted to be a father from a very early age. I was unclear, however, if I could also be true to myself.
At four, when my younger sister was born, I thought I was capable of taking care of her. I apparently decided that she needed to be flipped in her bassinet so that she wasn't facing the wall. This was her first week home from the hospital. At 12, I was the go-to for several parents on our street who needed extra help with their little ones.
My desire to be a parent was so strong, working through it was one of the most significant hurdles to me coming out as a gay man. Burdened with the dilemma of choosing a family or being true to myself, I researched my way into a solution. As a psychology major, I focused my senior thesis on understanding the impact of gay parents on the well-being of children. Looking back, this was a bold move for a closeted young man at a conservative Catholic university.
My takeaway from the research was that children raised by gay parents grew up to be as well-adjusted as their peers raised by heterosexual parents. If anything, growing up in a non-traditional family helped them develop empathy, a trait we place a high value on in adults. These findings put my mind at ease, freeing me to imagine a future as an out man that would someday become a father.
With the question of if I should be a father behind me, I moved on to how I would create my family. I didn't need to look much further for parenting paths than my own house. When I was a senior in high school, my parents started fostering newborns that were potentially being placed with adoptive families. Long before fatherhood was even on my radar, this normalized adoption. I got to meet families that were created or grew through adoption. It also reinforced that my parents would support my future decision of adoption when the time was right.
Adoption felt like the right path long before I even met my now-husband. One of us brought up the topic of fatherhood on the second date. Thankfully, he was also open to adoption. We joke about it now, but our family trees have enough health issues that neither of us felt that passing along our gene pool was important. From this point forward, my journey to fatherhood became our path to building a family.
Eight years later, we have two boys, ages four and two. While there are many routes to take, we worked with an attorney who helped match us with birth mothers for open adoptions. We matched with both of our boys before they were born, and we were at the hospital for their deliveries. I can't imagine loving them differently or any more if they were our biological children. People often tell us that they look like biological siblings (they aren't) and that they look like us. While I don't see the physical resemblance, they've both taken on mannerisms from both of us.
Our older son has started to ask questions: "How did you pick me? Why did you pick me? Who made me?" Our response is usually a combination of the following: "We didn't pick you. A really nice woman knew that we wanted to have a baby. She was carrying you in her belly, and she picked us to be the family she helped. Aren't we lucky that she picked us to be together?"
While this answer is worded for a four-year-old, we mean every word of it. I will never stop being grateful for the two women who demonstrated the ultimate trust in us as parents and for the miracle of adoption.
If you are interested in growing your family through adoption or fostering please email us at Foster@davidandmargaret.org.