Attend an Orientation
---
COVID-19 Update; David and Margaret will continue to host free telephone and video orientations as needed. In-person orientation have been postponed until further notice. 
General orientations are held from 6:00pm - 8:00pm on the first Monday of every month. Please sign up using the calendar link below. Private orientations can be scheduled at your convince at an agreed upon location. 
Public FFA orientations are held at: 
David & Margaret Youth and Family Services
Dave & Maggie's Center
1351 Palomares La Verne, California 91750
Tel: 1 (800) 4-FOSTER (800-436-7837)
Email:  Foster@DavidandMargaret.org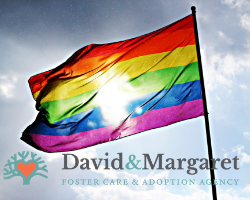 ---
The Big Picture
A child enters foster care every two minutes in the United States; there are over 400,000 children currently in care.
In California, approximately 55,000 children and youth are in foster care at any given time.  Children remain in foster care temporarily until they are able to safely reunify with their family, until they are adopted, or until they "age out" of foster care and transition into adulthood. On average, children remain in care for approximately 20 months. Older children, sibling sets, children with developmental disabilities, and youth who identify as lesbian, gay, bisexual, or questioning (LGBTQ) tend to remain in care longer and are also less likely to be adopted. It is imperative to find safe and nurturing families for all children in foster care.
David & Margaret Foster Care and Adoption Services works in collaboration with Los Angeles, Orange, San Bernardino and Riverside counties to place children awaiting homes. Whether you are interested in being a resource family, adopting, volunteering or otherwise supporting youth in foster care we are here to guide you through the process. We know that there are lots of requirements to meet before you can become a resource parent, but all of it is done to ensure the safety of these precious children. We are here to help through each step of the process.
What is a Resource Family?
A resource family consists of a parent or parents who provide short- or long-term care and safe harbor for children in foster care while their family receives family strengthening services (referred to as reunification services). Their role is critical and life changing. Resource families work tirelessly to provide children with stability, love and a healthy future. As an open and affirming agency, our resource parents come from all races, religions, sexual orientation and walks of life.
What is Fost-Adopt?
While foster care is intended to be temporary solution for children in need of a nurturing home until they can safely reunify with their families, adoption is a lifelong and legally binding relationship between children and their resource parents. All families are required to be certified for both foster care and adoption, a dual certification often referred to as "fost-adopt." This allows children to be adopted by their resource families, who have already nurtured and loved the children in their care for some period of time, in the event that reunification is not possible.
David & Margaret also welcomes people who are going through the Independent Adoption process to make use of our Adoption Home Study, Post Placement and Post Adoption Services. We will work closely with your attorney or out of state agency to make your experience a positive one.
What Does David & Margaret Provide?
Around-the-clock staff support
Ongoing training
Child and family therapy
Home screening and approval
Complete adoption services
Home visits and support for the family
Monthly stipend (as set by DCFS)