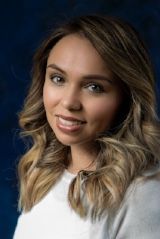 David & Margaret Youth and Family Services COMPASS Program wishes to express our gratitude to Jessie Sandoval for four years of service and dedication. Jessie worked tirelessly in support of Transitional Age Youth throughout her tenure. "Jessie is one of the hardest working individuals I know." Shares Marissa Scholefield, Director of COMPASS Programs.  Marissa goes on to say "Jessie always represented the agency well.  Her professionalism with clients, staff, and with the community at large was always apparent. She demonstrated great time management skills balancing her workload providing client care, as well as in the support to volunteers she supervised."
Jessie was also a team player, contributing in staff meetings, especially as it relates to helping her colleagues with improving client care. It is important to note that Jessie had exceptional skills working with individuals with higher mental health needs and was successful working with individuals who had been difficult for others to manage. Her experience with at risk populations was clear not only in her own service delivery, but also in the guidance she provided to her team.
As the workforce training program lead, she took the initiative and resolved issues appropriately, followed up in a timely manner, and made sound decisions that needed little to no direction from her direct supervisor. Jessie also demonstrated solid leadership through her ability to self-manage, being mindful of how her actions may affect others. Further, she was always open to hearing constructive feedback regarding how she could continue to develop her leadership skills, which further illustrated her self-awareness; a critical skill necessary for continued professional and personal growth. Jessie will be missed for not only her expertise, but her vivacious spirit, playful qualities, and doing whatever it takes attitude!
Thank you for all that you have done for D&M and its participants!