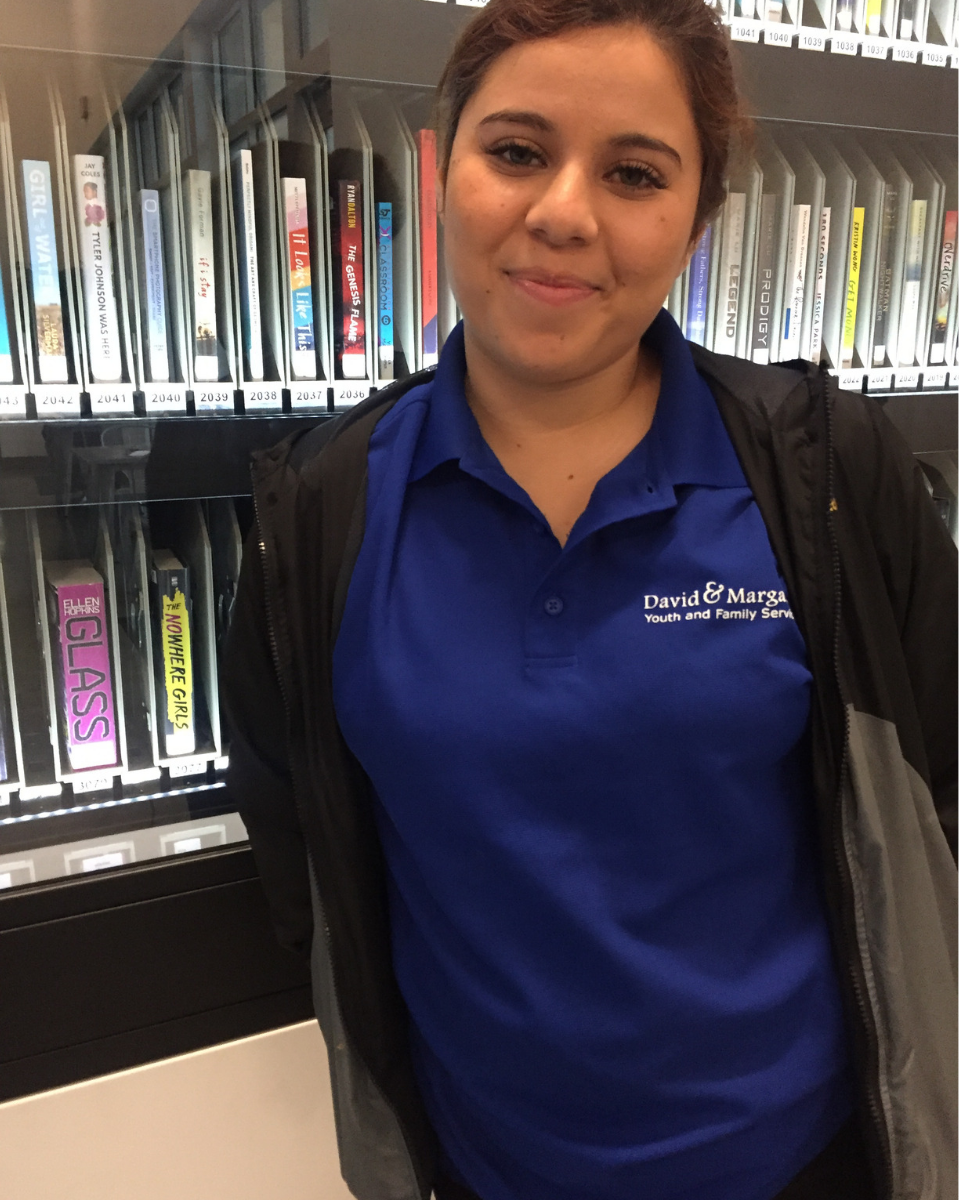 Maria is a participant in David & Margaret's Transitional Housing Program (THP). The THP program provides housing, financial support, regular meetings with social workers, and weekly life skills classes. The goal of the program is to provide practical, financial and emotional support to youth aging out of foster care as they transition to self-sufficient adult lives.  Maria is also participating in David & Margaret's Youth Workforce Training Program which provides her one to one sessions with an employment/career specialist and a paid internship to help her learn essential career skills.
Currently Maria is a paid intern at The Store @ David & Margaret! She admits she was nervous to start at The Store but now says it's a "piece of cake!"  Maria has held a few jobs in the past, but her favorite job was working in a flower shop. She enjoyed arranging & displaying the floral arrangements and learning how to cut and care for the flowers.
Maria attends Mt. Sac community College in addition to her internships and aspires to "pass all my classes in college and major in nursing." A dream she's had since middle school. "The midwife nurse interests me. The one that helps during the birth and gives the baby to the mom - I like to see their reactions. Maybe, MAYBE a Nurse Practitioner, that takes 12 years.
"If I keep studying, anything is possible. I just want something to do to help the community, to help people."
As a part of the THP Program, Maria enjoys living off campus in an apartment she shares with a housemate in La Verne, CA."They give you an apartment and you have to learn everything by yourself. You have to keep it clean and go grocery shopping and they don't help you, so it's good. I hate when it gets dusty and it's just been a week! So I have to get out the clorox wipes." Her favorite thing about her apartment is "I get to decorate it and clean it!" And she refers to La Verne as "clean, quiet, and calming." While it is true she needs to learn to do things for herself, she has support of the THP staff and her social worker as she learns to be independent.
Maria was born into the foster system, living with a variety of foster families and attending many schools. "My experience? It was good, all my social workers were nice, friendly, they would take me out to eat! And the foster moms…they were nice - only one was not nice." Maria attributes her love of cleaning to her former foster mom, who loved to cook and kept a very clean and tidy home. Her most memorable experience with the foster system is "the food! And I went to 5 different high school so I made a lot of friends!"
When asked what advice she would give others who are in the foster system she advised to "follow the rules, take advantage of all the benefits because it can help you succeed and stay on the right path. Do your best, be kind and good things happen."