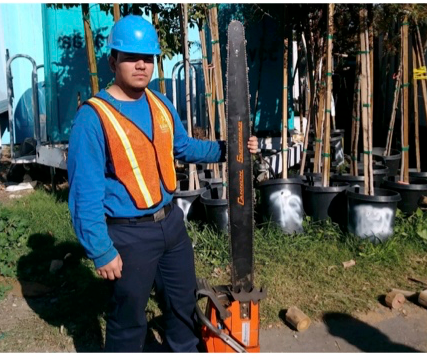 Meet 19-year-old Luis Torres and you can feel energy radiating from him like heat. He seems excited about pretty much everything, even leaving his apartment at 5 a.m. to get to his new job at the San Gabriel Valley Conservation Corps in Pomona. After helping to load trucks with supplies, he works with a road crew cleaning up turnouts in Azusa Canyon, Mount Baldy, and the City of Industry. He recently earned his chain-saw certification so he can help clear fire hazards such as dead trees.
So many potential careers, so much ambition. "I want to get into the Forestry Department," he says, "where they go into the forest and watch for fires. I want to go into law enforcement after that – I'm going into the Army soon. I want to see the world and become an MP [military police]. I've already talked to a recruiter and I'm studying to take the acceptance test right now – the higher you score the more jobs you qualify for. All kinds of interesting stuff." His inspirations are a brother-in-law who was a 10-year Navy veteran and is a K9 officer with the Manhattan Beach Police Department, and a brother who is a Marine. "He's been everywhere," Luis says, his eyes sparkling. "Japan, Kuwait, Afghanistan."
Like so many foster kids, his path could have been very different from the one he envisions for himself. His parents were in the drug trade, moving house frequently until a suspicious landlord tipped off law enforcement to their activity. "We got picked up by the police at school," he remembers. "I was 7. It's been quite a journey." He and his 11 siblings and step-siblings – three sisters, eight brothers – wound up in foster care.
Even though he was in only three foster homes – a comparatively small number for a youth who was in the system for 11 years – "it was hard for me," Luis remembers, "because I wanted to feel like a regular kid with his family, not a foster family." He admits that he got into trouble to get the attention he craved, but ultimately decided he would rather set a good example for his younger brother.
He left his last foster home when his foster parents, who were also caring for four other older male foster youth, moved from Corona to Lake Elsinore. "We all decided we wanted to stay and graduate from the same high school, so I moved into a little back house" owned by the parents of a friend on the school's wrestling team. "It was really nice, and I was there for a couple of months, but I didn't want to be a burden on them," he says. I needed to find a home."
His independent living coordinator told him about the Transitional Living Programs at David & Margaret, and after attending an orientation, he applied and was accepted.
The transitional housing program at David & Margaret provides housing and supportive services for youth aging out of foster care. As long as they are in school or working they will have housing for the length of the program. They also have weekly check-ins with their social worker and are strongly encouraged to participate in life skills and career readiness classes. The youth also have an Employment/Education Specialist who is available to work with them one on one. In addition, they are also provided with clothes for interviews and household items that they need to manage their homes.
When asked about his time at David & Margaret  "It is really awesome," he says with a smile. He now has his own apartment near the David & Margaret campus in La Verne. Watch out, world - Luis Torres is on his way!
Do you know someone who might benefit from the Transitional Living Programs at David & Margaret? Contact Administrative Assistant Adriana de la O at (900) 596-5921, ext. 3226, or DelaoA@DavidandMargaret.org.