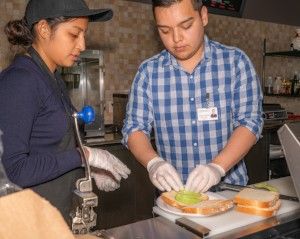 David & Margaret Youth and Family Services in La Verne has received a $3,000 grant from the Ecolab Foundation, to promote self-sufficiency and employment for youth ages 18-24 in Los Angeles County who are leaving or transitioning out of foster care.
"Thousands of youth leave foster care at age 18 each year, and they are not prepared to be self-sufficient," says Executive Director Charles Rich. "Many lack a place to live, a job, or a high school diploma. Our Youth Workforce Training Program (YWTP) participants gain work experience, soft skills, and industry-specific skills through supervised and paid on-the-job training placements with community partners, as well as in our on-campus retail store and café. Through these internships, the youth develop the necessary job skills to eventually work on their own, so they can achieve economic security and lasting independence."
Through this grant, youth taking part in the YWTP will:
·         be enrolled in a pre-internship training program and receive a service plan based on their personal strengths and needs,
·         receive internship stipends and take part in financial literacy workshops, and
·         gain greater awareness of in-demand career fields by visiting local businesses and through guest speaker presentations.
About David & Margaret Youth and Family Services
Established in 1910, David & Margaret serves more than 1,400 clients annually through a comprehensive range of programs. In 2015, the Cedar Springs Apartment complex opened on the agency's campus to provide increased housing and supportive services for youth transitioning out of foster care. In 2017, the Youth Workforce Training Center opened, featuring a store and café that are open to the public, to give transitional age youth valuable work and life skills experience. To learn more, contact Community Engagement Director Maggie Bohlman at (909) 596-5921, ext. 3246, or BohlmanM@DavidandMargaret.org, or visit the agency's website at www.DavidandMargaret.org.
About the Ecolab Foundation
The Ecolab Foundation has donated nearly $101 million since its inception in 1986. It focuses on educational, cultural, environmental and community development programs that are good for business and good for society. Through its youth and education initiative, Ecolab focuses on program grants to non-profit partners who address education in the areas of STEM (science, technology, engineering and mathematics), college and career readiness, and early childhood programming. For more information, visit the foundation's website at https://www.ecolab.com/about/corporate-responsibility.