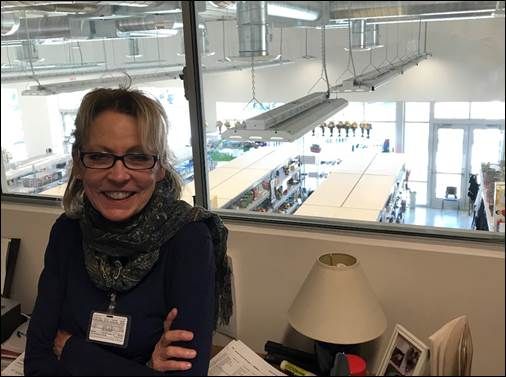 The Youth Workforce Training Center is the one of the newest additions to the 108-year-old David & Margaret Youth and Family Services, and it's being led by the agency's newest director, Vicky Camarella. Camarella came to David & Margaret with a wealth of retail and e-commerce management experience.
The program is housed in a new facility on the agency's south campus, and includes The Store @ David & Margaret and Dave & Maggie's Café, both open to the public. They are designed to provide youth who are transitioning out of foster care, and into independence, with the basic skills they will need to get and keep a job.
Most transitional age foster youth have never held a job before. To help boost their chances of success, they receive extensive coaching from program staff before they are placed in an internship at the store or café. The program also includes paid internships at partnering local businesses, paid for by the agency, to expand the youths' awareness of the myriad opportunities the marketplace holds.
Another aspect of the program is the Cedar Springs Apartments, also on campus, which provides supportive housing to former foster youth. Housing is the biggest hurdle faced by these youth, and without a secure place to live, they are less apt to be successful in other areas of their lives.
A group study project at the University of La Verne is working with her to create a business plan for the center. "I want to build our business and help these foster youth integrate," Camarella says. "The store and café are driven by our community, and serve the purpose of helping the youth in our program. My dream is that kids who are here will come back someday and be the leaders on this campus.