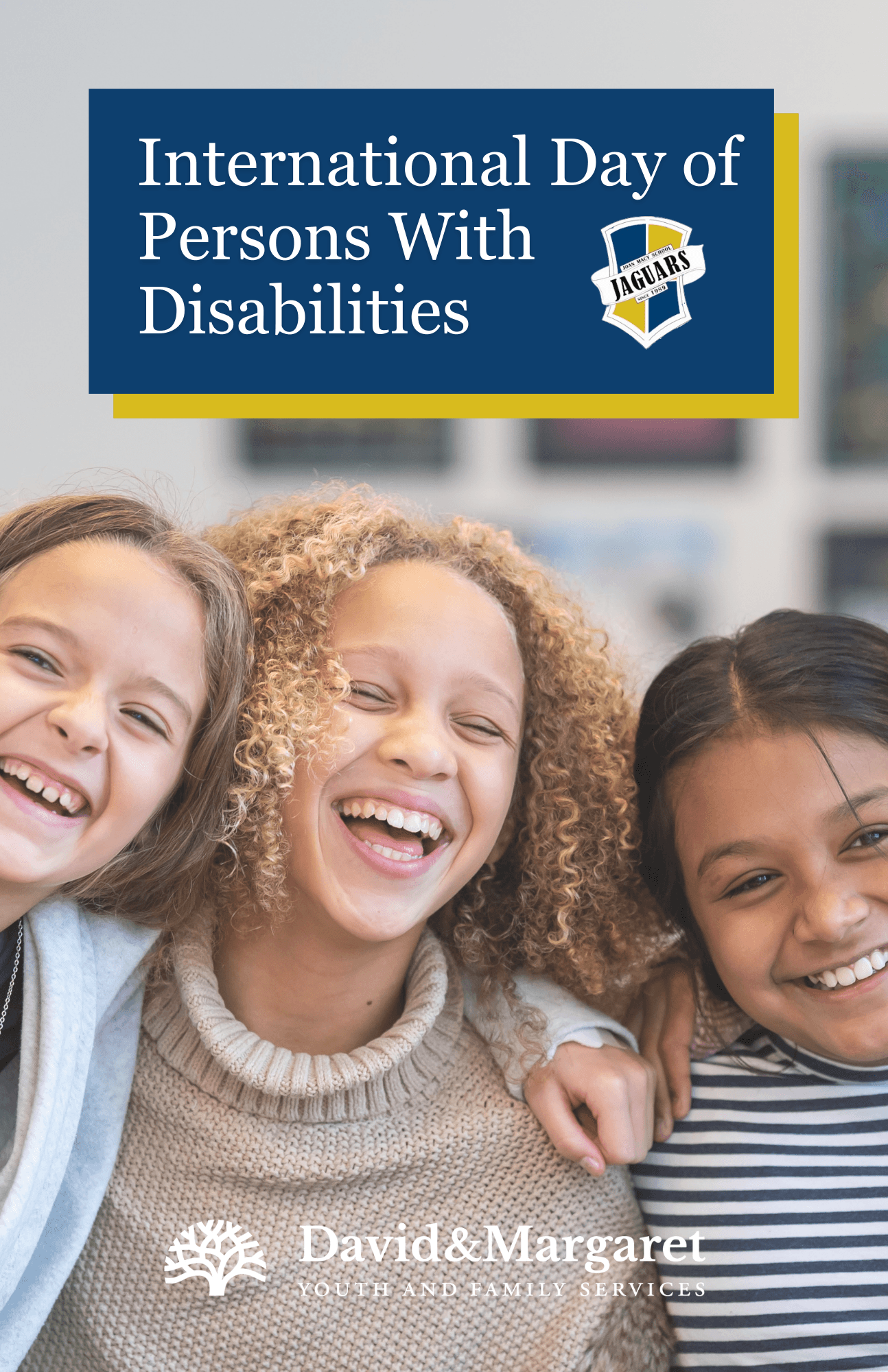 Today, December 3rd, 2021, marks the 29th annual International Day of Persons with Disabilities as established by the UN. For over one hundred years, David & Margaret Youth and Family Services has been a haven of education and growth for the most vulnerable in our community, including those with mental, physical, and emotional disabilities.
According to a study from the National Conference of State Legislatures, 30-40% of youth in the child welfare system are also in the special education system, compared to about 13% of the general population. To address the educational needs of residents at David & Margaret, Joan Macy School opened its doors in 1989, soon expanding to serve students that public schools cannot accommodate.
As a specialized, nonpublic school for students in grades 1-12, Joan Macy provides the individualized curriculum, support, and environment that students need to achieve success. Small class sizes, one teacher and assistant for every 14 students, benefit students who may have trouble focusing, behavioral issues, or need extra support.
Every student at Joan Macy School has an Individualized Education Plan (IEP), created by teachers, administrators, parents, and even the student, that documents the current educational performance of the student and specific, measurable goals for the student to achieve through special education. IEPs are reviewed at least once a year to track progress, provide updates, and set new goals. In addition to IEPs, each student attends 30-60 minutes of Designated Instructional Service (DIS) counseling a week, a standard practice for special education students with emotional and/or behavioral disabilities. These sessions provide additional support to students outside academics to ensure holistic development.
Another defining feature at Joan Macy School is the integration of practical skills like woodshop, home economics, life skills management, and even a vocational training program through the campus store. The diverse offerings allow students to explore their passions and learn skills they will use for the rest of their lives.
As Joan Macy School wraps up their first semester back after distance learning, our hearts are full seeing our community back in action playing soccer on the field and livening up the Whitney Building. In fact, our hearts are twice as full since our friends at Renaissance Community Preparatory, another specialized, nonpublic school, have joined our campus this year following David & Margaret's merger with Haynes Family of Programs. We are grateful to be able to provide even more students with the support they need to succeed!
Your donation to Joan Macy School ensures students with disabilities receive the quality education they deserve. Thank You!