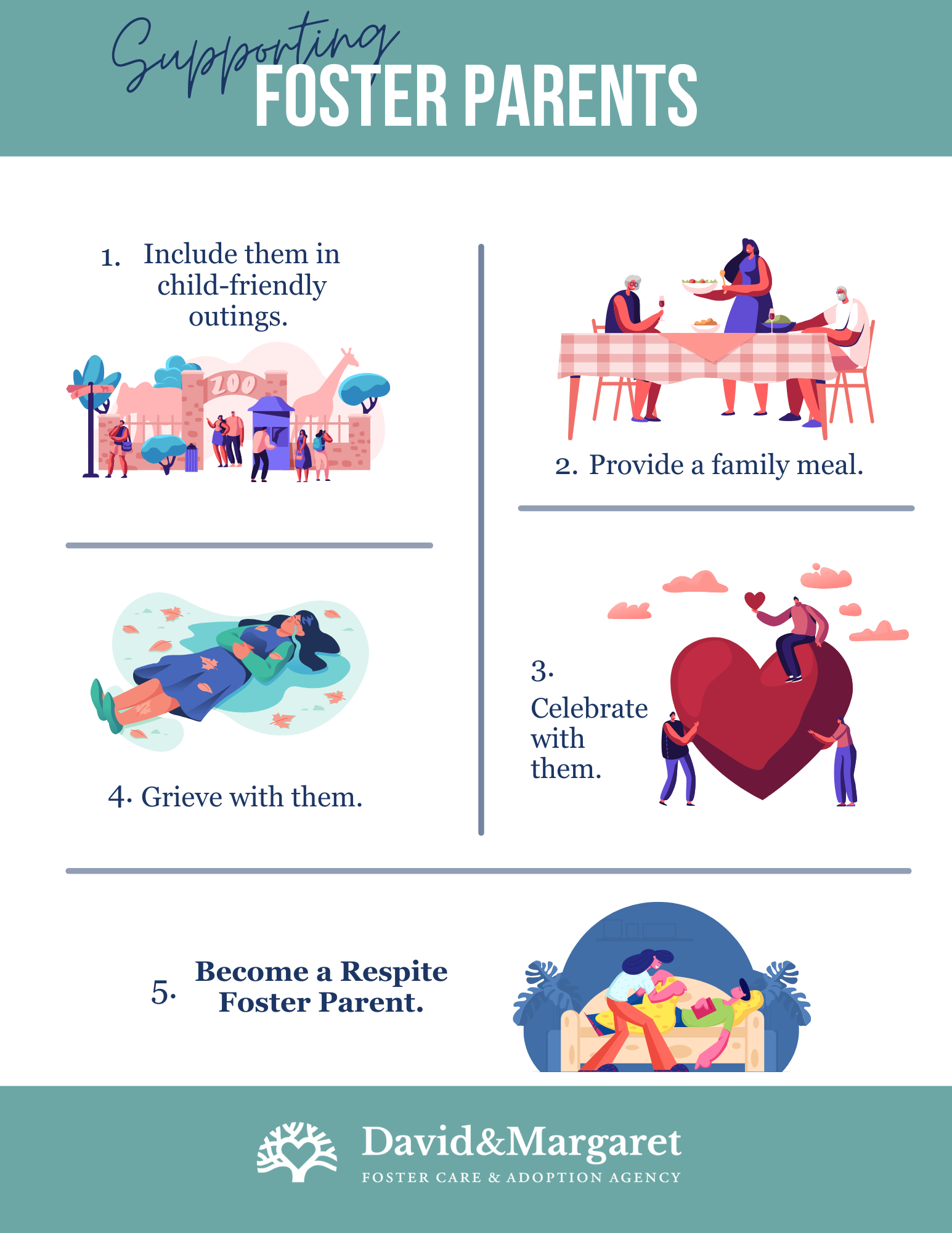 Being a foster parent can be isolating, but it doesn't have to be. 
It's easy to feel excluded through all the bustle- friends and family don't quite understand what the parents are going through and want to give them space to adjust and acclimate. It can also be a challenge for foster families to integrate into social circles when foster care and those in it are surrounded by so many unfair stigmas. 
You can help! 
Below are five examples of how You can provide meaningful support to foster parents.
1. Include them in child-friendly outings. 
Help the family feel included by inviting them to fun child-friendly outings! This inclusion is so beneficial for both the parent(s) and the child(ren). Outings can be as simple as a trip to the park, a botanical garden, zoo or library! 
2. Provide a family meal. 
The first few weeks of a foster placement can be hectic, stressful, and emotional! There is so much going on and parents are working overtime to meet the needs of the children in their care. Providing a nice family meal can help alleviate some of that stress! 
3. Celebrate with them. 
Help foster caretakers celebrate the big and small victories in their families! Maybe their child reached a developmental milestone, is celebrating a birthday, or learned a new skill. Let them know you recognize how great it is and join in on the celebration! 
4. Grieve with them. 
The primary goal of foster care is reunification. It a wonderful thing when a child can return to their families after being cared for by a foster family. Foster parents know and understand this, but that doesn't make saying goodbye any easier. Be there for them as they cope with these complex emotions. 
5. Become a Respite Foster Parent 
Every parent needs a break, sometimes. But children in foster care can't just visit with friends or family over the weekend. That is where respite foster parents come into the picture! Respite foster parents provide temporary care for children in foster care while their primary caretakers enjoy a weekend away or some quiet time at home. This care can be overnight, over the weekend, or for a few days at a time! 
Have you helped foster families in your community feel included? We would love to hear how!
 
---
Are you interested in becoming a respite foster parent? We would love to speak with you!
Simply call 1-800-4-FOSTER or email foster@davidandmargaret.org to get more information.