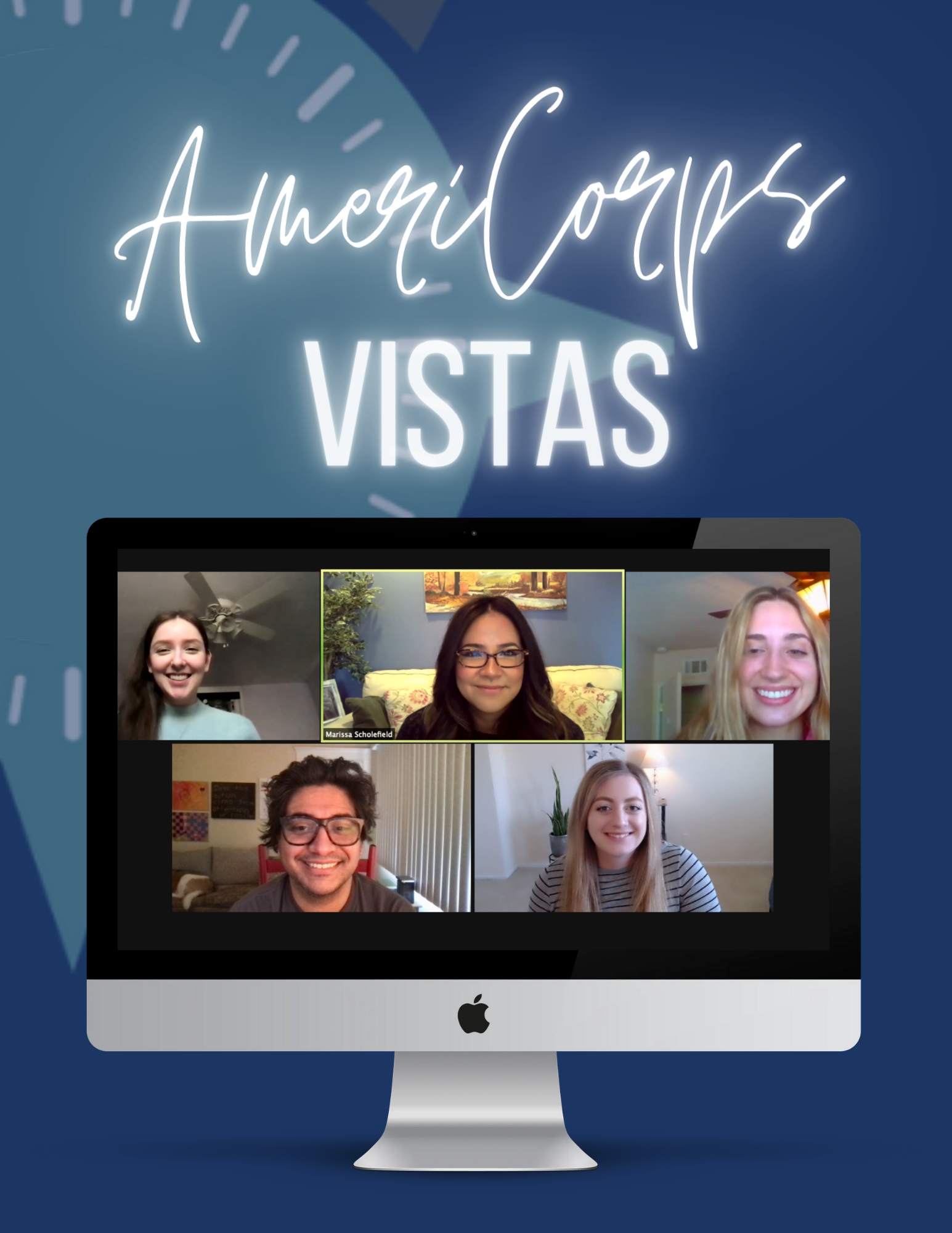 Tune in to our Facebook Live on Wednesday, March 10, 2021, at 12:15 pm to celebrate AmeriCorps Week and get to know the four VISTA members who are developing the COMPASS Programs at David & Margaret and making a difference in this community.
In 2020, David and Margaret Youth and Family Services welcomed four AmeriCorps VISTA members to the COMPASS Point Drop-In Center team to help grow and develop the program. The goal of an AmeriCorps VISTA member is to work alongside community members to meet challenges and advance local solutions. AmeriCorps VISTA members serve at an organization full-time for one year, during which they are given specific projects to build capacity for non-profit and public agencies through community engagement, funding, and develop programmatic infrastructure. While the launch of the COMPASS Drop-In Center did not go as expected because of COVID-19, all four VISTAs have been working diligently behind the scenes to ensure programming is still happening and participants are receiving the resources they need. The four positions the VISTAs are serving in are Policy & Program Associate, Community Outreach Associate, Social Media & PR Member, and Grant Writer. 
The Policy & Program Associate is Katy Holland, who has volunteered with D&M since September 2019 while also attending graduate school at Azusa Pacific University for Social Work. Katy's familiarity with the COMPASS Point program is a huge advantage to the team, who have all appreciated the knowledge and help she has provided. As the Policy & Program Associate, Katy is responsible for all things programmatic, including resource fairs, arranging life-skills classes, and coordinating all the events for COMPASS Point. Katy also played a critical role in transitioning the Food Bank to a contactless drive-thru to comply with CDC guidelines due to the COVID-19 pandemic. Her contributions to the COMPASS Point team are invaluable and we are excited to she chose David & Margaret as part of her journey to become a social worker. 
Emily Martinez, the newest Community Outreach Associate, also has a history of volunteering at COMPASS Point before transitioning to her role as a VISTA volunteer. She was introduced to the program through a mentor and immediately began volunteering her time while going to school full-time at the University of La Verne. She earned her degree in Business Administration at the beginning of 2021 and began her VISTA service right after. Her role at COMPASS Point is to find new community partners who are interested in offering services and resources to the youth and young adults served at David & Margaret. She also organizes events and workshops alongside Katy, including resources and trainings for staff as well as participants. 
Aden Jordan and Emily McCool joined the COMPASS Point team in December as the Grant Writer and Social Media & Public Relations Member, respectively. Although they graduated a decade apart, Aden and Emily both completed their undergraduate degrees at the University of San Francisco. Aden went on to earn two Master's Degrees in Cinema and English before obtaining a Grant Writing Certificate from San Diego State in 2020. Aden began grant writing for nonprofits before the pandemic, leading him to find opportunities through AmeriCorps. In his role, he researches and applies for new sources of funding and as well as renewing existing grants to continue to serve the community. Emily McCool runs the COMPASS Point social media pages, including Instagram and Facebook, where event reminders, program updates, and additional community resources are posted and easily accessible to the young adults who access COMPASS Programs. She graduated with a degree in Sociology in the winter of 2019 and most of her experience comes from working directly with youth, making her a good fit as the COMPASS Point storyteller. 
The team of VISTAs are all passionate about the work COMPASS Point was created to do, and their impact is obvious through the success of the program. These VISTAs have a unique opportunity to build COMPASS Point into a vital resource for the community. Collectively they are using their combined knowledge, skills, and experiences to design a program that creates a real and lasting impact on young adults in our community.