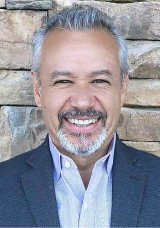 My name is Jose Ramon Villanueva, Ray for short. I am 58 years old, married to my beautiful wife, Rose, for 39 years. I have 3 children and 2 grandchildren. I reside in the city of Jurupa Valley in Riverside County. I have worked in the field of post-secondary education for the past 30 years.  I have been involved with D&M as a board member for almost two years now.  It has been an enjoyable and rewarding experience. I am grateful for the opportunity to be a part of such a great community organization.
How did you first learn about David & Margaret? 
I was officially introduced to D&M by a friend and board member, Ellenor Hudson. I had heard about the organization when I resided in the Pomona-Diamond Bar area before relocating to my current residence some 15 years ago. It was her introduction and invitation to join the board that sparked my interest in learning more about D&Ms services and it's role in our communities. I found that D&M was all the great things I was told about and so much more.
Why did you decide to re-join the D&M Board? 
D&M's institutional mission, the highly committed and professional staff and Board of Directors, and the difference they make for so many of our youth in our communities. For many of them, D&M may represent the only option or opportunity of last resort to improve their living conditions and be better prepared to overcome challenges as they navigate adulthood.  
What is your current occupation (or what position did you retire from)?
I remain active in the post-secondary and higher education field. Currently, I am the CEO of Capstone College, in Pasadena California, CEO of California Nurses Educational Institute in Palms Springs California, and Board Chairman of the Board of Directors of Southern California University in Costa Mesa California.
What is an accomplishment you are particularly proud of? 
At a professional level, the founding of four post-secondary institutions, returning to college in my forties to complete my MBA degree. At a personal level, I could not be more proud and grateful for my family; my wife Rose and my three children, Monique, Elizabeth, and Ray Jr., and my grandchildren, Isabel, Ezequiel Michael, and a third one on the way.
Do you have a quote or saying that motivates or inspires you?
I have a couple, but my favorites in Psalm 118:24 "This is the day the Lord has made; let us rejoice and be glad." I thank God for each day, for it is a gift, and I do my best to make a positive difference in people and my environment.
Do you have any hobbies or unique interests?  
I enjoy exercising. I am an avid fan of the game of soccer. I played the sport most of my life and cannot wait to get back on the field as soon as the pandemic is over and it is safe to play.  Cooking is another one of my hobbies. I really enjoy spending time preparing meals for the family on weekends and holidays.  I also enjoy participating in church ministry events. As the Chairperson of the Pastoral and Ministry Council of St. Mel Catholic Church in Norco, I have an opportunity to work in several of our ministries.
Where did you grow-up?  Where is home now?
I grew up in Los Angeles-Boyle Highs area in my youth. I graduated from Roosevelt High School. I lived in the Pomona-Diamond Bar area for nearly 20 years. Currently, I reside in the city of Jurupa Valley (formerly Mira Loma) in Riverside County.
What is an interesting fact about yourself?   
I'm not sure there is anything interesting or unique about myself. I migrated to the U.S. with my parents in the 70s. Married young (at 21) and we had our first child when I was 23.  I started my own business at the age of 24 and have been working independently since. I went back to college to complete graduate school in my forties. I met great people along the way, and with God's blessing, I was able to accomplish what I needed to care for my family. I'm like so many similar and even greater stories of migrants in our communities. 
What skills/expertise do you bring to the D&M Board? 
Years of business organizational and fiscal experience and experience working with youth and young adults in education settings.