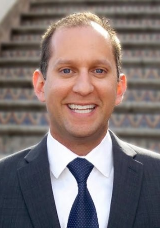 How did you first learn about David & Margaret?
I first knew of David & Margaret as a child having been assessed through their Learning Enhancement Center (LEC).  I have early memories of the tranquility of the campus and the grandness of the Whitney Building.  It was also a special time visiting D&M, as it was one of the only times as a child that my parents would buy me fast-food when headed over to the LEC.  Many years later, in 2013, my wife served as a Counselor at D&M.  She then eventually continued her work with D&M staff and clients through her employment at Chaparral High School.
Why did you decide to (re)join the D&M Board?
My wonderful childhood experiences at D&M, plus my wife's numerous stories of the D&M clients, is what really made me come to appreciate the organization and its mission.  Through joining the Board, it was my desire to help bring second chances to those who never really had that first chance.
What is your current occupation?
I'm currently a City Manager in the San Gabriel Valley area, where I'm responsible for managing day-to-day operations and overseeing all city administration and functions.  I'm also currently pursuing a Doctorate of Policy, Planning, and Development from USC.
What is an accomplishment you are particularly proud of?
As one of the newer Board Members, I've been honored to serve on the Finance Committee and now on the Executive Board.  These experiences have made me exceptionally proud in helping the organization navigate toward the future.
Do you have a quote or saying that motivates or inspires you?
"All I really need to know about how to live and what to do and how to be I learned in kindergarten -- Share everything. Play fair. Don't hit people. Put things back where you found them. Clean up your own mess. Don't take things that aren't yours. Say you're sorry when you hurt somebody. Wash your hands before you eat. Flush. Warm cookies and cold milk are good for you. Live a balanced life – learn some and think some and draw and paint and sing and dance and play and work every day some.
Take a nap every afternoon. When you go out into the world, watch out for traffic, hold hands, and stick together. Be aware of wonder.  Everything you need to know is in there somewhere. The Golden Rule and love and basic sanitation. Ecology and politics and equality and sane living.
Take any of those items and extrapolate it into sophisticated adult terms and apply it to your family life or your work or your government or your world and it holds true and clear and firm. Think of what a better world it would be it all – the whole world – had cookies and milk about three o'clock every afternoon and then lay down with our blankies for a nap.  Or if all governments had a basic policy to always put things back where they found them and to clean up their own mess.  And it is still true, no matter how old you are – when you go out into the world, it is best to hold hands and stick together."
Do you have any hobbies or unique interests?  
I have two children – aged 4 and 6.  Most of my activities revolve around them, which includes biking around the neighborhood, going hiking, and playing with our backyard chickens.
Where did you grow-up?  Where is home now?
Born and raised in West Covina.  My wife, our 2 children, and I live in San Dimas
What is an interesting fact about yourself?  
I've traveled to over 50 different countries.  My grandfather belonged to The Travelers' Century Club, which is for people who have visited 100 or more of the world's countries and territories.  He often brought my mother along as a traveling companion.  She caught the travel bug and instilled the passion within me.  I hope to one day be apart of that same club as my grandfather.
What skills/expertise do you bring to the D&M Board?
I bring my experiences with administration, visioning, policy clarity/direction, goal setting, and understanding of political maneuvering to change lives – save lives – and provide hope to the population D&M serves.