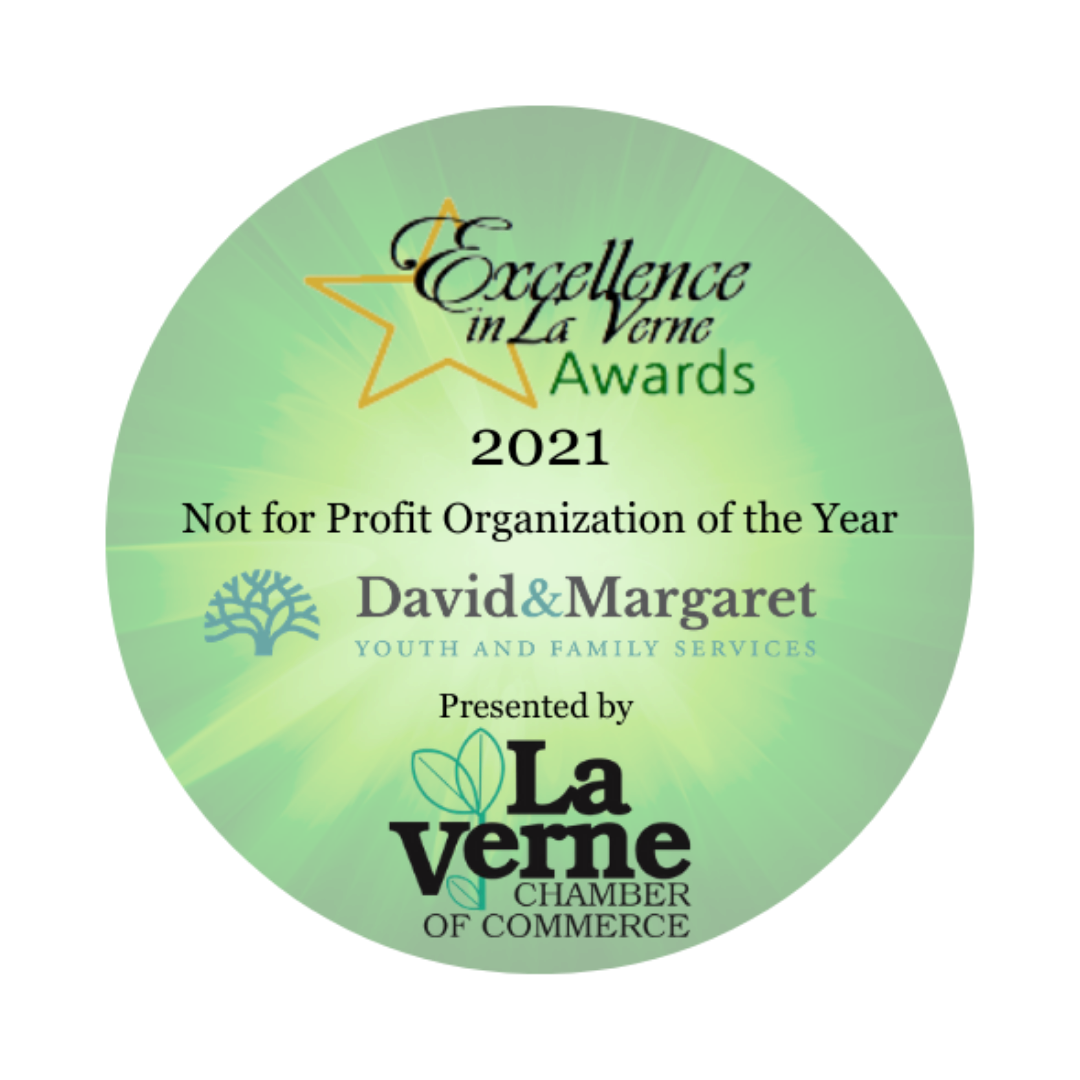 This month, the La Verne Chamber celebrated their 2021 Excellence in La Verne Awards. David & Margaret Youth and Family Services was honored to receive the award for Non-Profit of the Year for excellence in providing critical services and supporting at-risk communities during the coronavirus pandemic. David & Margaret was recognized for the broadening of services with the opening of COMPASS Point which supports young adults with a history of foster care, demonstrating creativity and innovation in meeting the needs of the La Verne community,  promoting volunteerism, demonstrating growth and stability, and making a worthwhile impact on society and individuals. 
The La Verne Chamber recognized many other wonderful businesses:
The Corner Butcher Shop- Business of the Year 
Sol Flower- New Business of the Year 
Third Street Wine Shop- Family Owned Business of the Year 
Gilead Sciences- Employer of the Year 
And a special congratulations to Matthew A. Bartlett, for receiving the Brian McNerney Ambassador of the Year Award. 
This award highlighting outstanding service in our community is just one of the many ways the Chamber supports the La Verne community. The La Verne Chamber of Commerce works diligently to support businesses and non-profits in our fair city. As long time members, David & Margaret can attest to the value of their membership. Over the years D&M board members, staff, and young adults in D&M programs have all benefitted from the sense of community, partnership, and care that is found at the Chamber. One of the benefits of Chamber membership is getting to know local businesses and non-profits. David & Margaret has formed meaningful relationships with many of the Chamber members, including Sol Flower, who joined D&M for 2020 Foster Care Month to raise funds to provide crucial services to at-risk youth and families in this community. As a part of the "Excellence in La Verne Awards"  the David & Margaret team got to know the Pomona Valley Habitat for Humanity team. 
Pomona Valley Habitat for Humanity was the 2020 "Excellence in La Verne Awards" Non-Profit of the year. Their Executive Director, Christine Charland came to campus to present this year's award to David & Margaret. It was an honor to have the "Excellence in La Verne Award" presented by Ms. Charland. David & Margaret and Pomona Valley Habitat have different missions but are both rooted in our community and committed to improving the lives of our neighbors.  
Pomona Valley Habitat is part of a global, nonprofit housing organization operated on Christian principles that seek to put God's love into action by building homes, communities, and hope. Pomona Valley Habitat for Humanity is dedicated to eliminating substandard housing locally and worldwide through constructing, rehabilitating, and preserving homes; by advocating for fair and just housing policies; and by providing training and access to resources to help families improve their shelter conditions. Habitat for Humanity was founded on the conviction that every man, woman, and child should have a simple, durable place to live in dignity and safety, and that decent shelter in communities should be a matter of conscience and action for all.  Through partnerships with cities, businesses, faith groups, service clubs, and individuals, Pomona Valley Habitat proudly serves the communities of Chino, Chino Hills, Claremont, Covina, Diamond Bar, Glendora, La Puente, La Verne, Montclair, Ontario, Pomona, Rancho Cucamonga, San Dimas, Upland, Walnut and West Covina.
Pomona Valley Habitat also has a ReStore located in Montclair – this home improvement thrift store sells donated new and used building materials and other items at a fraction of the retail price. Proceeds from the ReStore are used to fund the construction of Habitat homes for low-income families locally. 
We encourage you to learn more about the work of Pomona Valley Habitat here. 
---
About the La Verne Chamber of Commerce: 
The Mission of the La Verne Chamber is to Grow Business, Build Community and Improve Quality of Life as they advocate for, educate and support our businesses. The La Verne Chamber of Commerce is committed to the following core values to direct our governance and activities:
Collaboration: Respecting and valuing broad participation in community dialogue and establishing community programs mutually beneficial to all parties
Leadership: We are committed to excellence, continuous improvement, and driving positive change
Integrity: Demonstrating honesty and trustworthiness in action and intent while respecting and protecting community resources
Innovation: Proactively and forward-thinking, we create meaningful programs that add value to meet the needs of an ever-changing world. We embrace the possibilities of the future while preserving our community's rich history
Growth: We work to create a business climate that attracts new investment and enhances growth and expansion opportunities for existing companies.
For more information about the chamber and all they offer, please visit their website.