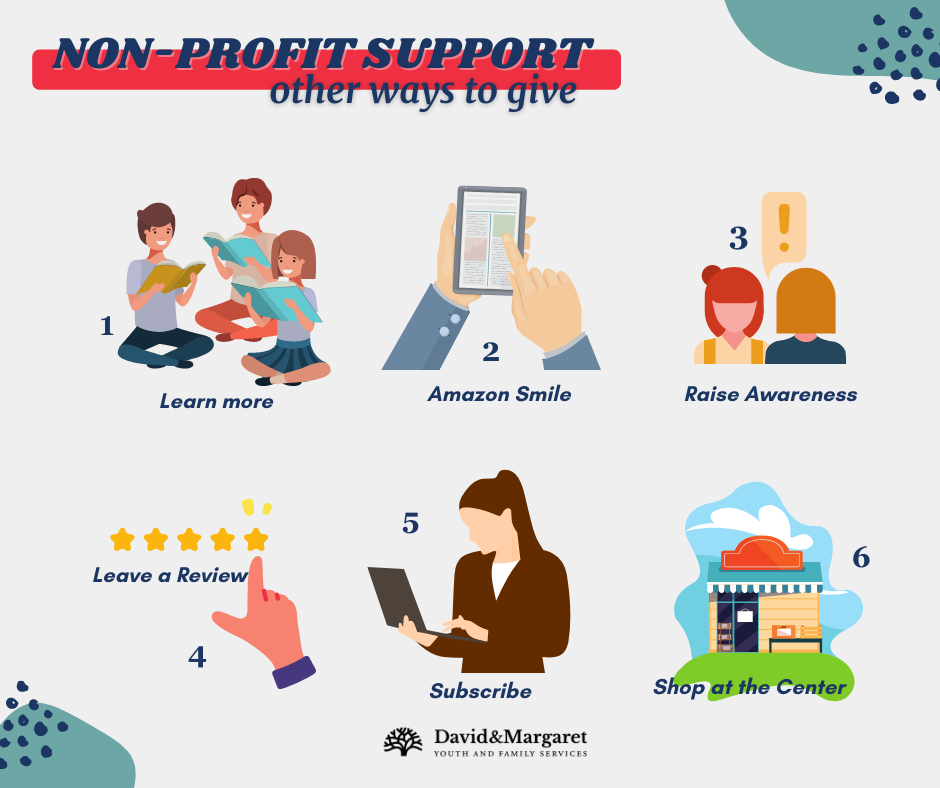 As the end of the year nears, many provide support to charities and non-profits all around the world. However, last year provided many struggles, leaving continual contributors unable to lend financial support this season. But did you know there are many ways you can still support the causes that you are passionate about? 
 
1. Learn more about the cause 
Learn more about the cause you are passionate about! You can find many stories from the youth and families that receive services at David & Margaret on our website and social media! You can also learn more about the reason these services are so important to our community. 
 
2. Support with Amazon Smile
Support while you shop! When you make your yearly purchases on amazon, use amazon smile and chose David & Margaret Home as your charity of choice! Feel good knowing every purchase you make supports children and young adults with a history of foster care!
 
3. Raise Awareness 
Raising awareness is one of the simplest and best ways to support a cause! Tell a friend why it means so much to you. Even sharing a post or story on social media can have a huge impact! You never know who you might inspire.
 
4. Leave a Review
Reviews are very important in these times! They show users who their neighbors trust, and who they can trust. Leaving a simple review on Yelp of Google can make a huge difference! 
 
5. Subscribe 
Subscribe to the David and Margaret quarterly Newsletter! Receive new stories and program details straight to your mailbox! It helps you stay connected with programs and causes that are important to you. 
 
6. Shop at the Center 
When you shop at Dave and Maggie's Center you are supporting young adults who have aged out of foster care as they gain skills and knowledge needed for their professional futures. And every purchase you make supports the programs at David & Margaret Youth and Family Services.