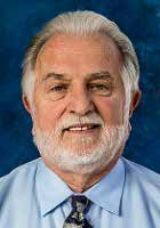 Welcome back to our "meet the board" blog post series. There are several new & returning members joining the David & Margaret board of directors this year. We hope you enjoy learning about our newest leaders, and discovering a bit about who they are and what led them to lead the organization during this transformative time. Today's interview is with returning board member Brian Bowcock. 
How did you first learn about David & Margaret? 
Brian was first introduced to David & Margaret back in 1978 when  he met Chief Executive Officer Bud Whitney through the La Verne Rotary Club. Bud had needed help with a water issue on campus and Brian went over to assist. Bud explained in detail to Brian about everything David & Margaret did and from that day on Brain and his wife have been a supporters and advocates. Brian's wife has mentored some of the young women over the years. 
Why did you decide to re-join the D&M Board?
I was on the Board for 2 previous terms and wanted to keep helping the young ladies pursue their  dreams and get out of the "system". 
What is your current occupation?
I was the Director of Public Works for the City of La Verne (1978-2000) and I was elected to the Three Valleys MWD Board as a Director in 2001, representing La Verne and Claremont at the present time.
What is an accomplishment you are particularly proud of? 
Attending the students' high school graduation at David & Margaret and working to convince the young ladies to attend Citrus College or Mt. SAC.  Also, seeing the completion of the COMPASS  Point Drop-In Center and being a part of it. I am always trying to make a difference in the community.  I'm very proud to say I WAS THE GRAND MARSHAL in the July 4th parade in 2018.
Do you have a quote or saying that motivates or inspires you?
 I have two - "Pursue your dreams, if you fall, pick yourself up and keep moving forward." "I will not fail"
Do you have any hobbies or unique interests?  
Water is my hobby for (60 years and still going strong), but giving back to my community is most important to me, whether at David  & Margaret, the La Verne Chamber, Citrus Foundation, City of La Verne and community events such as the 4th of July committee (now in my 41st year), USC Engineering/Water Foundation and the Learning Center at the Fairplex. All of these have to do with helping young men and women achieving their goals through higher education.
Where did you grow-up?  Where is home now?
I was born in Ontario, Canada. came to Ontario, California in 1952 at the age of 10 and now live in La Verne and plan on staying here. I love this city.
What is an interesting fact about yourself?   
I have 3 children, 9 Grandchildren and 5 Great Grandchildren + another coming soon. Initially, I was going to be a police officer, most of my education was in Police Science. I started in the water field while in high school during the summer at 17 years old and loved the work. I ended up changing my major while half way through college, making water my career. 
What skills/expertise do you bring to the D&M Board? 
My whole life has been about water, construction & maintenance, buildings, management & budgeting. I am planning on continuing my efforts to help maintain and improve the buildings and grounds at David & Margaret to make them as nice as possible for the children, youth and families that use them.