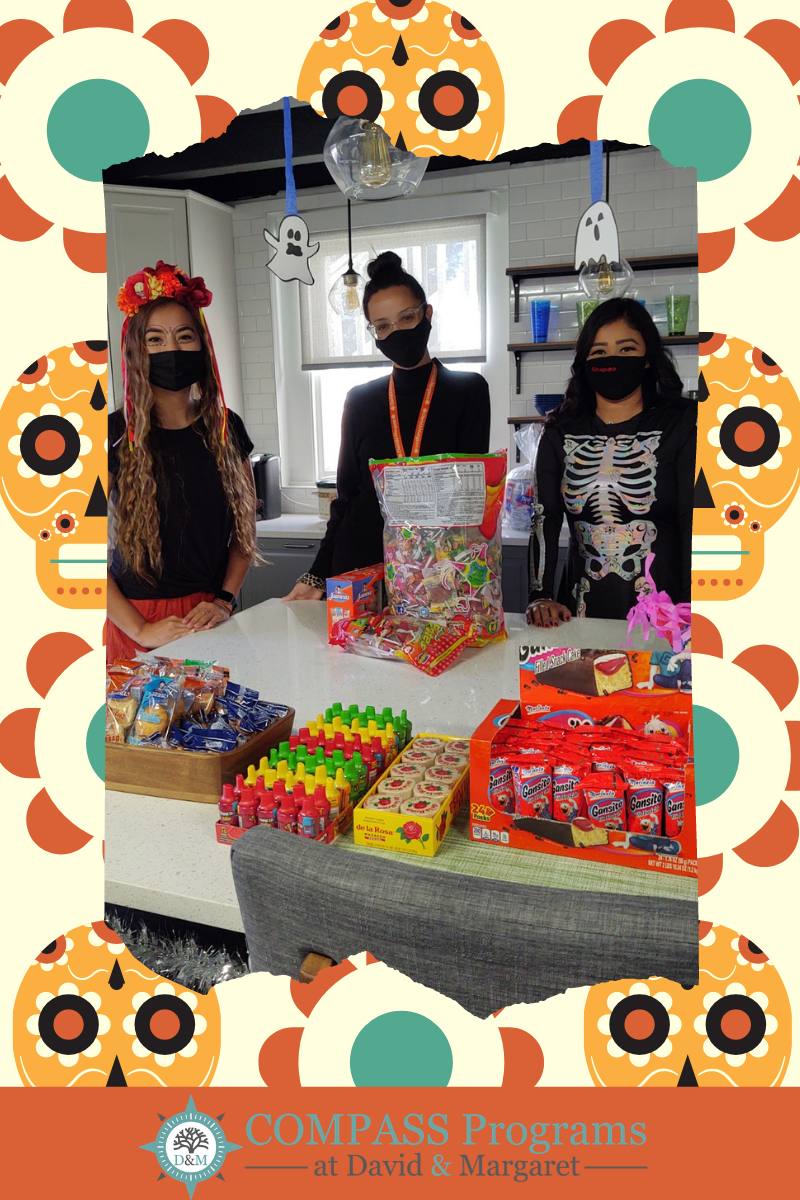 On Friday October 30th the Compass Point Drop-in Center put on their Dia de los Muertos and Halloween Celebration Event specifically for young adults in David & Margaret's housing programs.  The day was a celebration of the rich traditions that Dia de Los Muertos stands for - celebrating the lives of the loved ones we have lost.  The day was an opportunity to celebrate with and get to know the 19 participants who joined COMPASS Point staff for the event. 
 
While maintaining the proper COVID-19 safety guidelines, the COMPASS Program staff was able to provide a festive space for celebration.  The day started with "Breakfast with Mama Coco" where participants were served Abuelita hot chocolate, Hispanic pastries and candies. There was time for conversation and a time to acknowledge those whom are no longer with us, as is the tradition of the day. Then we moved into "Lunch with Mama Imelda Rivera" where participants were served Mexican fare and again had the chance to safely interact with each other.  We ended the day with "Trick/Trunk O' Treating with Miguel and Hector" with staff's spooky trunk creations.  A continuous stream of Halloween movies played through the event, such as; Coco, Coco: The Musical, The Haunted Mansion, and Maleficent.
 
The day was overall very successful getting to enjoy the company of many young adults in celebrating these beloved traditions in a consciously safe way.  As time goes on, with the safety of our participants always at the forefront, we look forward to continuing to host events that will allow us to get to know the young adults we serve, build community and create a safe and welcoming environment at the drop-in center.  

If you would like to learn more about how COMPASS programs support Transitional Age Youth please visit out website.