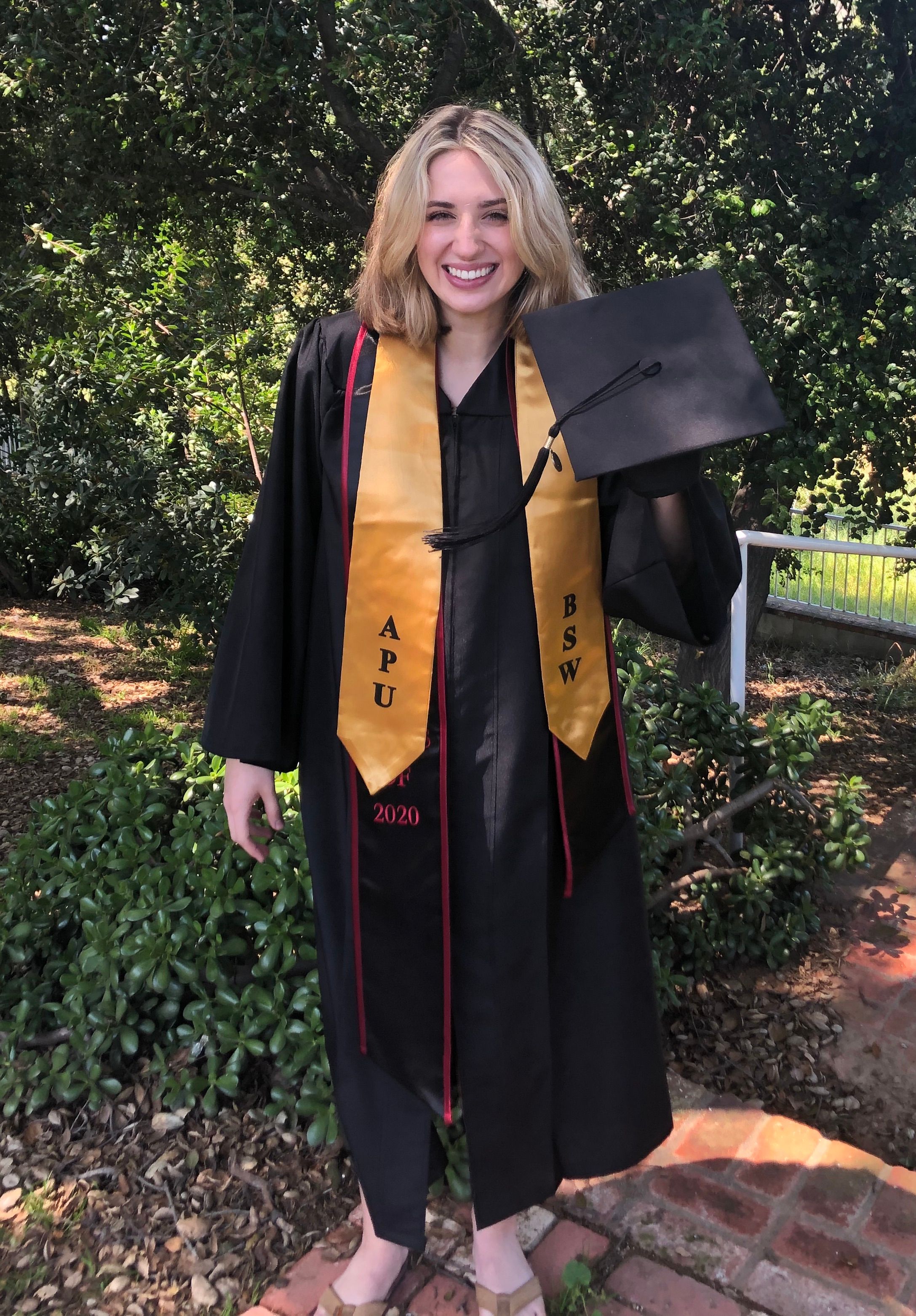 Katy has been volunteering with David & Margaret since September 2019. She began while studying social work at Azusa Pacific University (APU). As a senior, she had the opportunity to work hands-on in the field while completing a year-long internship. At APU each senior is thoroughly interviewed and paired with a local agency in which the student can thrive. Katy was paired with David & Margaret and she quickly reached out and made arrangements to begin her internship with the COMPASS programs at D&M. 
It was a family friend who had introduced Katy to social work and she was hooked immediately. "I fell in love with what social work stands for." She shares. "Social workers are such advocates for the well being of every person. They know everyone deserves equality and respect and the opportunity to prosper. Social workers really help fight for that." 
Throughout her internship, Katy proved to be an exemplary volunteer. She has a huge role in the Food Bank Distribution team and helped streamline services while transitioning to the food bank to contactless pick-up when the COVID pandemic struck and she has contributed inestimably to the COMPASS Point Drop-in Center. 
When asked about her experience with the Food Bank Distribution Katy shares, "The transition of the Food Bank was challenging. But we've continued to work really hard to provide as many resources and as much support as we can to the community and especially the Transitional Aged Youth." She thinks back on the interactions she has had with families during the distribution, and shares "It has been really rewarding hearing feedback from the participants. Hearing how grateful they are and that they're able to feed their family and neighbors [with packages received from the distribution]. It just shows that David & Margaret is making a difference and it's such an awesome thing to be a part of." 
Katy graduated with a Bachelor's Degree in Social Work in the spring of 2020 after completing her internship, but her relationship with D&M didn't end there. Because of her work ethic, qualifications, and an unwavering passion for helping others, Katy was offered a new position as the Policy and Program Associate with the AmeriCorp VISTA program. 
A total of four AmeriCorp VISTA volunteers are joining the COMPASS Point Drop-in Center team to help progress this new program's infrastructure- each playing a unique and vital role.
"It has been so rewarding to watch the progression of the Drop-in Center. We've been laying the groundwork, creating protocols, holding stakeholder meetings." Katy recounts. "David & Margaret has a huge opportunity reaching these clients and I feel the Drop-in Center is a great way to offer a variety of services and resources to those who need it the most. I'm so passionate about the work David & Margaret is doing and it's so great to be a part of it." Katy continues to work on program development, the Youth Advisory Committee, the Food Bank Distribution, and more.
We are eager for the opening of COMPASS Point Drop-in Center, which is set to have a soft opening in late summer/early fall  2020, and look forward to the new ways the program can support youth and young adults with a history of foster care!