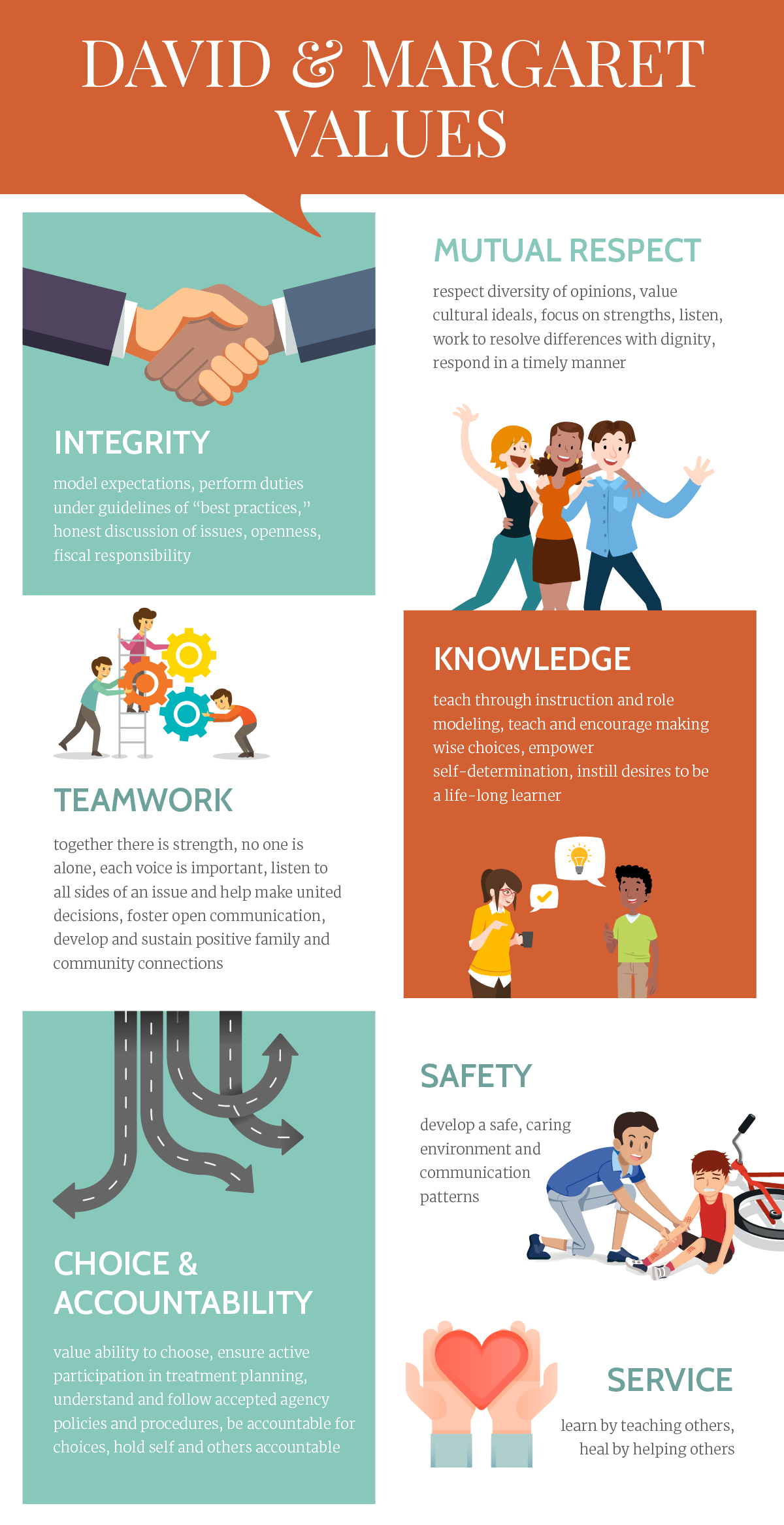 Just like it has been for all of you, these past few months at David & Margaret Youth and Family Services have been like nothing any of us could have anticipated. It is in challenging times like these that we are especially grateful to be guided by our mission and values.  Our mission states David & Margaret empowers children, youth, and families through culturally diverse services that foster emotional, educational, spiritual, and identity development. Our mission and our work are more important now than ever for the at-risk youth and families in our community.
As D&M continues our essential services during this pandemic and beyond we look to new ways of providing services to ensure our participants and families can access these services which they have come to expect while remaining safer at home.  In addition, D&M is responding to new needs as they arise in our community.  Through it all D&M is guided by the following Values:
Integrity - Model expectations, perform duties under guidelines of "best practices", honest discussion of issues, openness, fiscal responsibility
Mutual Respect - Respect diversity of opinions, value cultural ideals, focus on strengths, listen, work to resolve differences with dignity, respond in a timely manner
Teamwork - Together there is strength, no one is alone, each voice is important, listen to all sides of an issue and help make united decisions, foster open communication, develop and sustain positive family and community connections
Knowledge - Teach through instruction and role modeling, teach and encourage making wise choices, empower self-determination, instill desires to be a life-long learner
Choice & Accountability - Value ability to choose, ensure active participation in treatment planning, understand and follow accepted agency policies and procedures, be accountable for choices, hold self and others accountable
Safety - Develop a safe, caring environment and communication patterns
Service - Learn by teaching others, heal by helping others
David & Margaret's philosophy of care is also core to our work. D&M programs are built around a person-centered philosophy recognizing that every person is wonderfully unique.   We believe those we serve are the experts and key decision-makers in their recovery process and our mission is to support them in their life's journey by working collaboratively with them, their community, and their family supports and resources.   We do this, remaining committed to the important core values upon which we were founded.  It is vital that we not only utilize these values as guideposts and encourage others to do likewise, but that we also incorporate the following beliefs in our service delivery:  
every individual is of great value and worth
every individual has the right to love and be loved
every individual has strengths
every individual has the right to be cared for with dignity at all times
every individual has the right and freedom to make choices
every individual has the right and the responsibility to actively partner in the personal development process
David & Margaret Youth and Family Services continues to provide all of our programs and services during these socially distant days. If you or someone you know would like to know more please see our website or reach out to us via email for additional information.