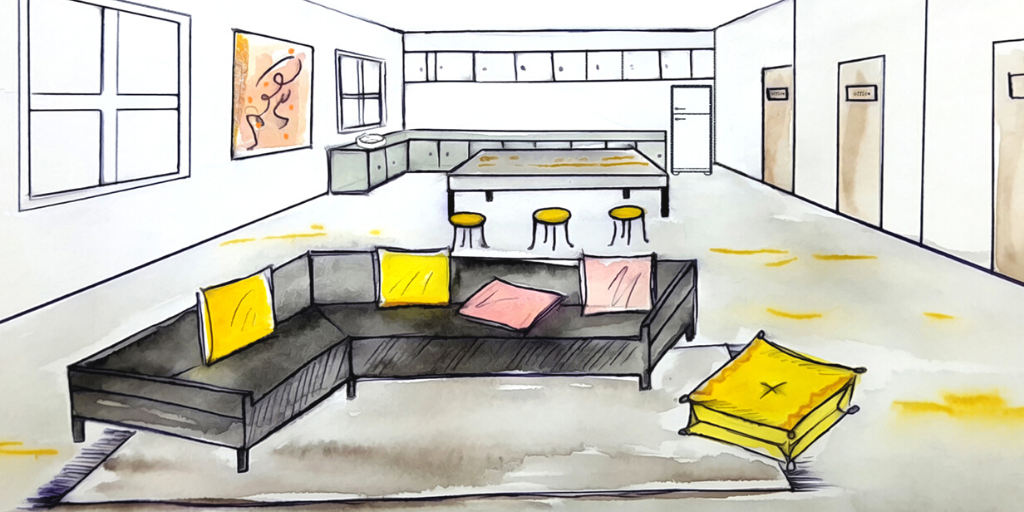 COMPASS Programs, Creating Opportunity and Making Personal Advancements to Self-Sufficiency. 
The first stakeholder meeting for the COMPASS Point Drop-in Center was held last week. Passionate members of the community joined together on Go To Webinar to share ideas and learn more about COMPASS Point and the various programs offered at David & Margaret Youth and Family Services while practicing social distancing. 
Marissa Scholefield, COMPASS Programs Director, and Katelyn Holland, COMPASS Point Intern hosted the gathering. Together with Jessie Sandoval, Education and Employment Specialist, they are the driving force behind the Drop-in Center. 
"It was a really nice turnout," Katelyn recounts. "This was our opportunity to involve the community; to get together with our partners like DCFS and share how we're doing, what we're working on, what our goals are, what still needs to be done and to then get their feedback. We want to make sure the goals we have in mind align with what our community is needing."  
For over a century, David & Margaret has provided essential services to youth and families, always adapting to meet the current needs of the community. After years of serving youth who have aged out of foster care, David & Margaret staff were able to pinpoint specific areas of need. Staff then gathered additional insight from the young adults who will benefit from the drop-in center and plans to build COMPASS Point began.
Young adults who have aged out of foster care have a variety of struggles and needs and the COMPASS Point Drop-in Center will face these issues head-on and provide much-needed resources to every transitional aged youth (TAY) in La Verne and the surrounding communities.
These young adults have the same aspirations as their peers but have to fight much harder to achieve them. Many are hungry, homeless, looking for work and trying to attend school while lacking a foundation to make this possible. COMPASS Point will provide a safe space to meet the needs of every TAY, whatever those needs may be. 
Services will include: 
Quarterly Resource Fairs
A trauma-informed team designed to support TAY in learning independent living skills 
On-site representatives from supportive services such as The Special Supplemental Nutrition Program for Women, Infants, and Children (WIC), The Independent Living Program, The Los Angeles Homeless Services Authority, etc.  
On-site workforce training 
Peer-led support groups 
Tutoring 
Full kitchen and stocked pantry 
Clothing closet
Laundry facilities and lockers 
Full bathrooms and showers 
A computer lab with printer access 
A comfortable lounging area 
And more 
These resources will allow young adults to take care of their everyday needs so they can focus on the skills necessary to be self-sufficient, build their confidence and ultimately reach a level of success where they can be truly independent. 
The COMPASS Programs support youth at risk of homelessness and/or with a history of foster care through various programs and services dedicated to Creating Opportunity and Making Personal Advancements to Self-Sufficiency. These programs include the Transitional Housing Program, Permanent Supportive Housing Program, COMPASS Point Drop-in Center, Mental Health Services and the Workforce Training Program.