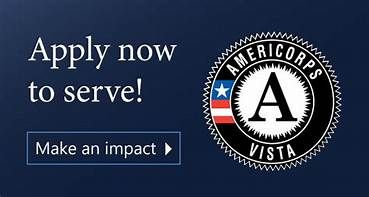 David & Margaret Youth and Family Services is pleased to share that we will be welcoming four AmeriCorps VISTA members to our campus this spring, and we will be supporting Ettie Lee Youth and Family Services as they welcome three AmeriCorps VISTA Members. David & Margaret and Ettie Lee are actively recruiting members for service. Please share these opportunities with those that may be interested.
What is AmeriCorps VISTA?
Lifting People Out of Poverty Since 1965
AmeriCorps VISTA (Volunteers in Service to America) members bring passion and perseverance where the need is greatest: to organizations that help eradicate poverty. AmeriCorps VISTA members serve as a catalyst for change, living and working alongside community members to meet our nation's most pressing challenges and advance local solutions.
AmeriCorps VISTA members build capacity in nonprofit organizations and public agencies to help them more effectively generate the commitment of private sector resources, encourage volunteer service at the local level, and empower individuals and communities. AmeriCorps VISTA members serve full time for one-year terms.
AmeriCorps VISTA Eligibility Requirements:
Be 18 years or older (no upper age limit)
Pass a national service criminal history check
Hold one of the following citizenship or legal residency statuses: US citizen, US National, Lawful Permanent Resident (i.e. Green Card status), and persons legally residing within a state. Examples of persons legally residing within a state may include those holding the following classifications: refugee, asylee, temporary protected status throughout VISTA service, and holding Deferred Action for Childhood Arrivals (DACA) status.
A good overview of the AmeriCorps VISTA Program can be found here. 
---
Service Opportunities
The below service opportunities have an application deadline of March 12, 2020, with a service start date of 4/13/2020 and are 12 months in duration. The member will receive an annual allowance rate of $20,641 and at the successful completion of services an Education Award of $6,195 or a $1,800 Cash stipend.
David & Margaret Youth and Family Services
David and Margaret's mission is to empower children, youth and families through culturally diverse services that foster emotional, educational, spiritual and identity development.
Ettie Lee Youth & Family Services
Ettie Lee's mission is helping vulnerable children and their families develop skills to lead successful lives. Saving Lives, Changing Lives, Building Hope for children and Families.
---
Image credit: CNCS