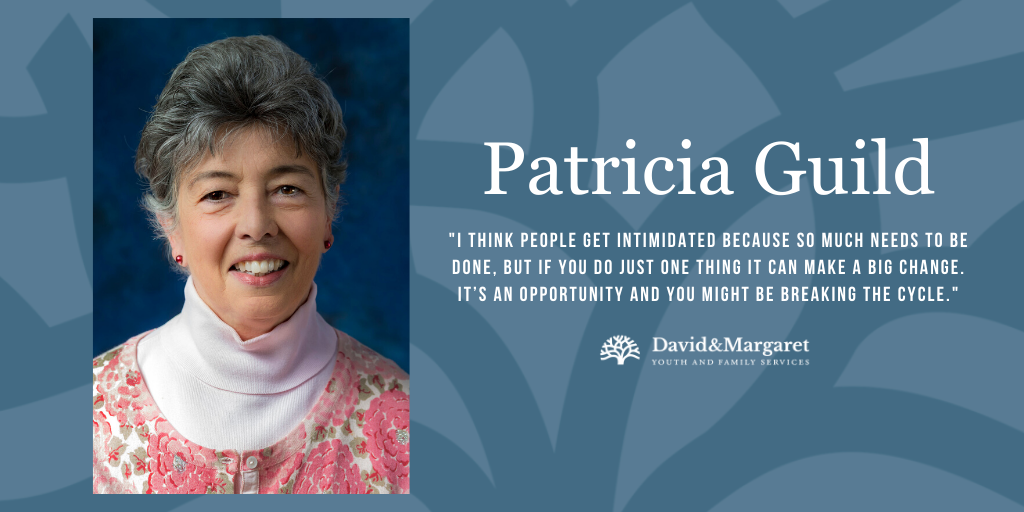 Patricia brings her lifelong passion for helping at-risk youth and families and her educational expertise to the David & Margaret Board of Directors. She is someone others can always rely on during difficult times and is a guiding light for many.
Patricia has lived in Southern California most of her life but she grew up in Nashville, Tennessee. She knew even in her early childhood she wanted to be a teacher, "I knew I did not want to be a nurse. I can remember that very clearly," she shares."I took my interest test in high school, I was going to be a farmers wife! I thought 'I can't be a farmer's wife'!" Patricia laughs before pausing, "And now I'm thinking how much things have changed for women since then. But I always thought I would be a teacher."
As Patricia became an adult she followed down the path to become an educator and attended Peabody aka Peabody College of Education at Vanderbilt University. After graduating Patricia moved to Southern California with her husband to be closer to University of California, Los Angeles.
Patricia began working for The Los Angeles County Office of Education which led her to work at an educational program located on the David & Margaret campus. Several years later she relocated, leaving the David & Margaret campus behind. She had moved onto consulting work and was contacted by Mr. Whitney*, the director of David & Margaret at the time. Mr. Whitney had plans to open a school (Joan Macy School, JMS) and wanted her as the director. She initially declined but later said 'yes' and served as the Director of JMS from 1990 to 2003 when her husband fell ill and she had to make time to support her family.
A couple years into retirement, Patricia received yet another call; this time asking if she was interested in serving on the Board of Directors at David & Margaret. Patricia agreed and served on the Board of Directors for 9 years before rotating off. She is currently back and in her third year! Patricia also serves on two other boards including the Joan Macy School Board and is involved in several committees. 
Of all her accomplishments, Patricia is most proud of her impact as a mentor. "When we started the School (JMS) there were a lot of young, inexperienced [employees]. I met with one Monday - one of my teachers, she now oversees Special Education in China, and she started off in the classroom!" Patricia beams. "I have another who started out as an assistant and now is Director of Curriculum in Riverside!"
Although Patricia uses most of her time to support others, she enjoys spending her free time reading, gardening and visiting with family. Patrica has two children and three grandchildren. Her son lives locally and often stops by with his adorable pup. Two of her grandchildren attend Chapman University: one studying Educational Psychology, the other Tech in Media. They're very close with their grandmother and make time to get together at least twice a month. Patricia's daughter and youngest grandchild live in Sacramento, where her daughter is the Director of two charter schools and her youngest grandchild attends high school. Despite the distance, Patricia makes it a priority to visit at least once every month.
As Patricia continues to fight for at-risk youth in the community she leaves us with this message: "I think people get intimidated because so much needs to be done, but if you do just one thing it can make a big change. It's an opportunity and you might be breaking the cycle."
---
*The main building on campus is known as the Whitney Building, named after Director Mr. Whitney.