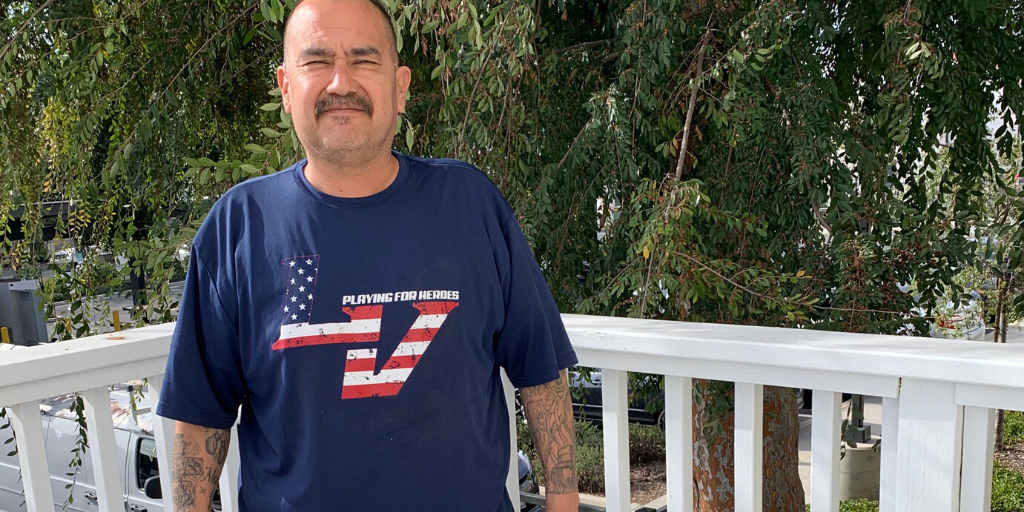 After 10 long years, Mark finally completed his final semester at the University of La Verne. He is set to graduate next month with a Bachelor's Degree in Business Administration and Concentration Management where he will dawn a red, white and blue graduation rope; representing his time served in the United States Marine Corps 2nd Reconnaissance Battalion at Camp Lejeune.
Mark's ambitious lifestyle traces back to his youth. In high school he worked multiple jobs, was captain of his water polo team and served as the Cadet Battalion Commander for The Reserve Officers' Training Corps. After leaving high school Mark enlisted in the Marine Corps where he served until he was 22 years olds. He left with a disability but remained focused on the future. After his time served he created a family and worked hard becoming a partial owner of a local business. It was easy to assume Mark had it all figured out.
But during this time Mark had developed an addiction to alcohol and became a self-described 'functional alcoholic'. He soon found himself putting alcohol before everything else in life. "I knew I had a problem, I just couldn't stop." Mark confesses. "It took something bad to happen. To hit rock bottom."
Eleven years ago Mark found himself incarcerated because of his addiction. The journey down this road was long but the steep decline to rock bottom came swiftly. This was the wake-up call Mark needed to get his life back on track. "I had time to reflect." He shares. Instead of wallowing in his suffering he used it as an opportunity to thrive. He knew he had to quit drinking but that wouldn't be enough. He decided to go back to school, obtain a degree and give back to his community at every opportunity.
Since this incident Mark has lived true to his word; maintaining sobriety, supporting his community and working hard to continue his education.
Mark is a valued volunteer at David & Margaret, he also continually volunteers at local food pantries, mentors at-risk youth from the East LA juvenile detention center, provides blankets and food to the homeless population and so much more. His altruistic lifestyle has been passed onto his children, his family is known to hand over their own meals to hungry families in their neighborhood. Mark constantly reminds his children "that no matter how bad it is, somebody has it worse. And if you were to count your blessings instead of your problems you would have a new outlook on life."
While attending the University of La Verne, Mark worked at the Center for Veteran Student Success, where - though he humbly protests - he proved to be integral to its success and popularity. The Veteran Center had only been open a few months when Mark noticed hungry students hanging around looking for food toward the end of each month. He immediately began buying groceries and ended up creating a monthly breakfast tradition! Each month Mark cooks breakfast for everyone interested. He has become quite famous for his hash browns. He also helps with crowd sourcing, fundraisers, graduation, and threw a remarkably successful party celebrating the Marine Corp's 50th birthday.
Mark has big plans for his future; personal, financial, health and other and we have no doubt he will accomplish each of them.
On behalf of everyone at David & Margaret we wish you the best and we thank you for providing daily inspiration in all the lives you encounter. You are a true estimate to second chances.