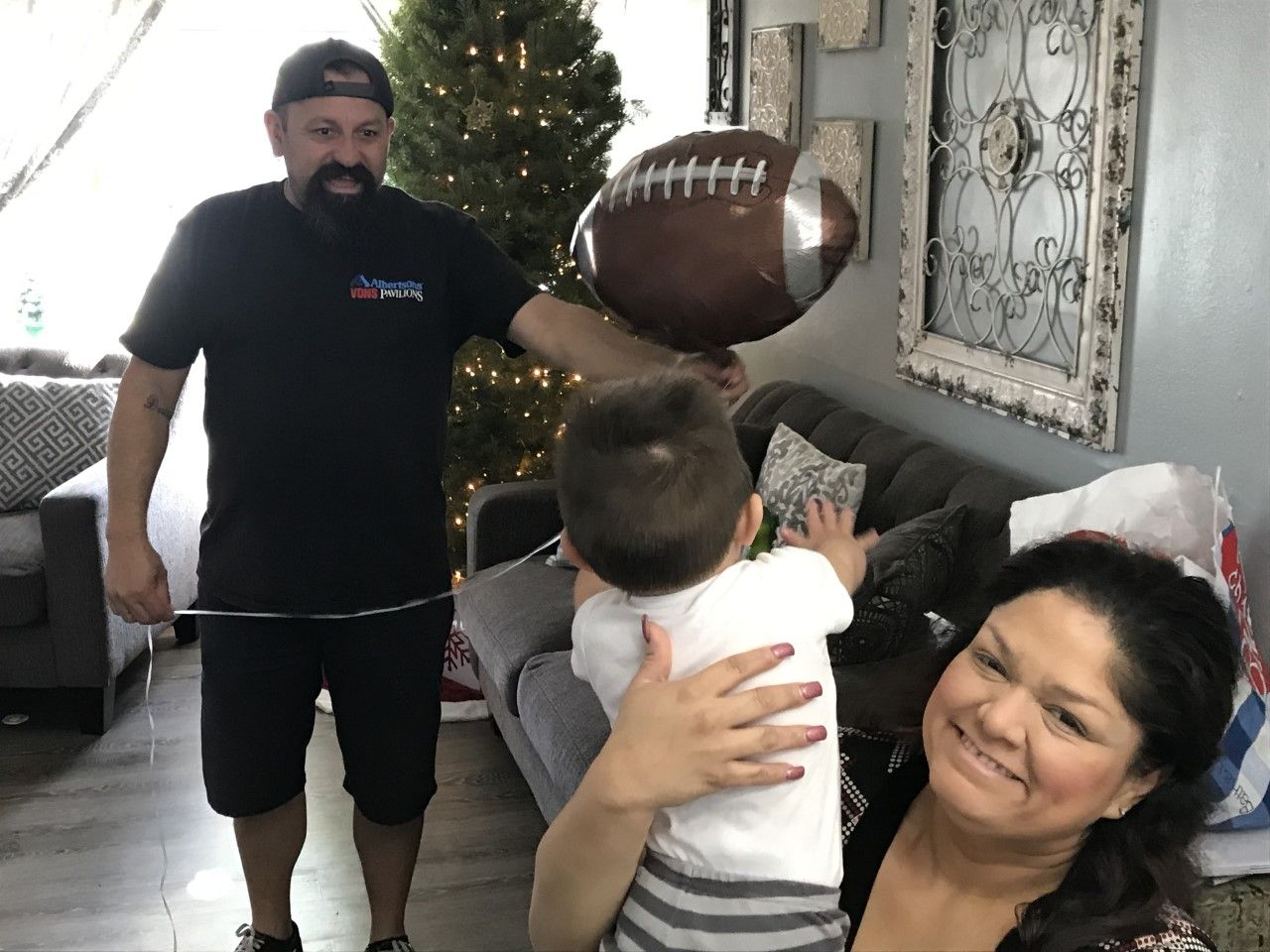 The Godinez home is decked out for Christmas, and 17-month-old Cruz likes that idea. When he's not playing with a football-shaped balloon or a Buzz Lightyear toy, he's fingering the needles on the still undecorated tree. "We got it yesterday and we're still trying to figure out how to decorate it" so he doesn't get into too much mischief, says his fost-adopt mom, Jennifer, as she watches him fondly. "This is the first Christmas he remembers, so it's all new to him."
Jennifer met her husband of 8 years, Luis, when he was working in construction and they had a bet on whether his company would finish striping the street she lived on by the end of the day. "He came knocking to collect because he won the bet," she says with a laugh. Married after four years of courtship, they wanted children, but ectopic pregnancies prevented them from having a biological child.
"The first time I thought about adoption, I was driving home and heard a commercial about the number of kids in the foster care system," Jennifer says. "The next day I made an appointment. I was never the kind of person who says 'it has to be my biological child or I won't have children at all'." Their first attempt at adoption, when they lived in Los Angeles, unfortunately fell through.
When they learned through a family member that a woman was due to deliver a baby boy in six weeks and was willing to put the child up for adoption, they jumped at the chance. They again got qualified in San Bernardino County, where they now live, and with the help of a caring social worker, became little Cruz's fost-adopt parents when he was just three days old.
While foster care is intended to be temporary solution for children in need of a nurturing home until they can safely reunify with their families, adoption is a lifelong and legally binding relationship between children and their resource parents. All families interested in adoption are required to be certified for both foster care and adoption, a dual certification often referred to as "fost-adopt."
This allows children to be adopted by their foster families, who have already nurtured and loved the children in their care for some period of time, in the event that reunification is not possible. In the case of the Soliz family, the baby's biological mother has mental health and addiction issues that prevent her from keeping the child.
In the meantime, Cruz is enjoying typical toddler activities such as exploring the decorations in the front yard with his fost-adopt dad Luis, especially the inflatable snowman. Their real celebration will come when their adoption of Cruz is finalized in next spring.
Would you like more information about becoming a fost-adopt parent/family? Click here to schedule an orientation or chat with a social worker.