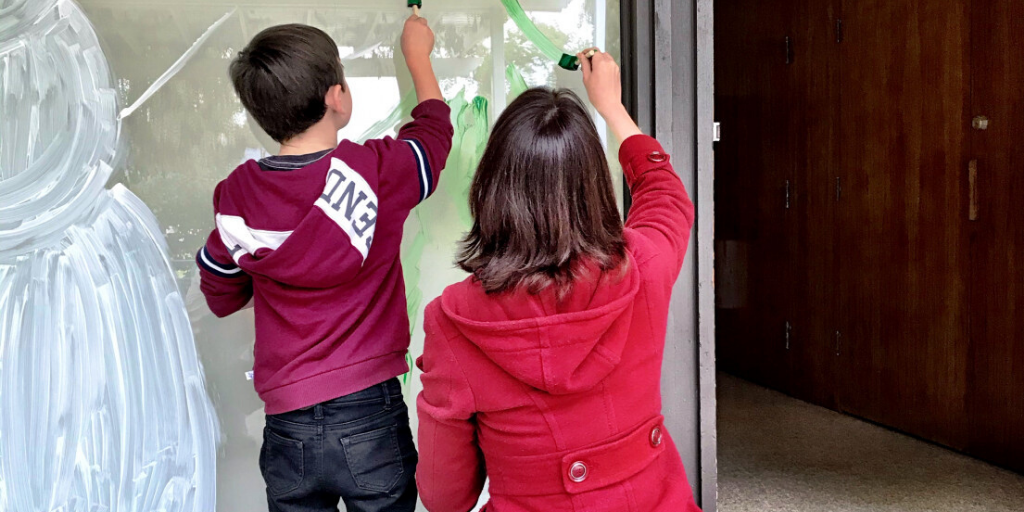 There are traditional snowmen painted on the windows of the cafeteria, with coal eyes and carrot noses. There is also a Jewish snowman or two with a menorah and dreidels, a snowman of color with a Kwaanza kinara (candleholder), a swashbuckling pirate snowman, and snow women – all products of the cheerful and creative volunteers who turned out on a chilly but sunny Sunday afternoon for David & Margaret's Holiday Service Day.
Almost 30 men, women and children, including a group from the La Verne Starbucks, decked the halls for the agency's Annual Holiday Open House and Boutique on Saturday, Dec. 7, 3-5 p.m. But most importantly, they made it cheerful and welcoming for the young people with a history of foster care who live here.
The holidays have been heralded by festive red bows at the base of the trees lining the driveway, a shiny wreath on the agency sign, glittering garland wound around columns, and a tall Christmas tree on the porch of the historic Whitney Building. New this year are several large, lighted inflatable decorations on the Whitney Building lawn, donated by an employee and her family. A cottage or two will be decorated for the open house, as well.
The free, fun-filled family event will feature photos with Santa, live music, refreshments, arts and crafts, and a boutique of more than a dozen local artisans selling holiday-themed goods. Do some gift shopping while you're here - 10 percent of proceeds will be donated back to David & Margaret to help fund holiday activities for the youth, so it's a win-win.
Volunteers are especially important at this time of year. There's still plenty to do to prepare for the holidays, such as gift wrapping donations destined for children and youth. Are you interested in helping out? Click here for a calendar of upcoming volunteer events!