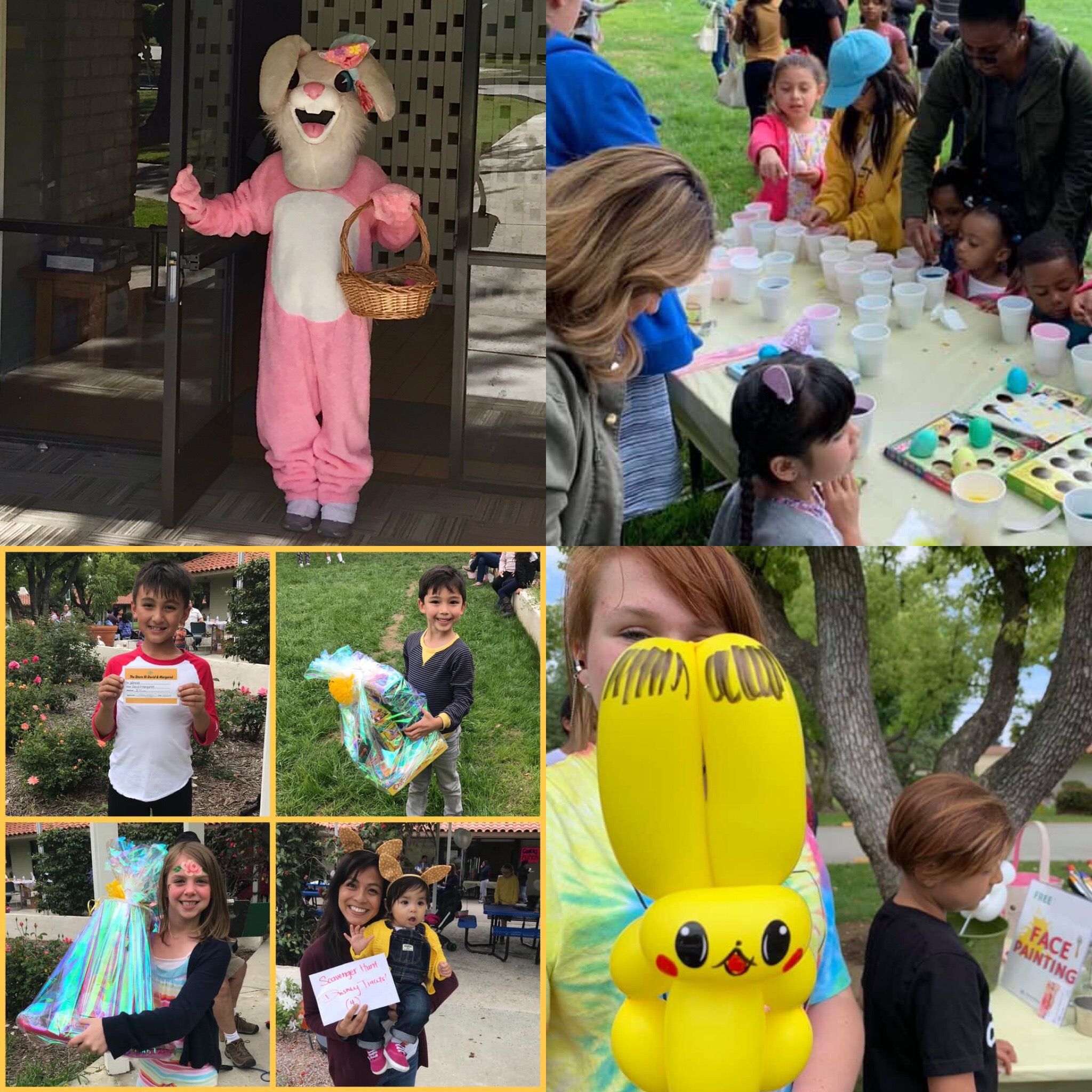 Thank you to each of the 539 community members who came out to David & Margaret's 44th Annual Easter Egg Hunt. It was such a fun and joyful day! There were balloon twisters, face painters, easter egg dyeing, lots of games, live music, photo booths, an Easter Egg Hunt, and of course a visit from the one and only Easter Bunny.
The David & Margaret Young Professional Committee which is led by chair Dallen Coulter of Edison International organized a fun event that raised money to support youth in foster care. The committee brought in sponsorships and sold pizza and snacks to help raises needed funds for programs that support at-risk families and youth in foster care in our community.  Committee member Shane Johnson of Gallegher Insurance emceed the event and made sure everyone had a good time. Additional Young Professional Committee members who dedicated their day and countless hours leading up to the event  include Ruth Martinez of  International American University,  Nick Solis of Starbucks and Amanda Alonzo of The  Red Cross. David & Margaret Board members Karen Zubiate, Darcy Coulter and Sabina Sullivan were also there to lend a hand and enjoy the festivities. 
Thank you to The 44th Annual Easter Egg Hunt Sponsors:  Blasser Law, Canyon City Printing, American Career College, Gallagher Insurance, Risk Management and Consulting and Jack Wear, The Golf Guru!
Thank you as well to all the families that participated in the D&M sponsored La Verne Scavenger Hunt. What a great way to explore some of the wonderful local business in La Verne while winning some amazing prizes. This year's winners won some great prizes including a $25 gift certificate to Dave & Maggie's Cafe, a $50 gift certificate to the Store at David & Margaret, a girls gift basket, a boys gift basket and the grand prize of 4 Disneyland Park Hopper tickets! We hope you all had as much fun visiting some local favorites and discovering new ones. We sure did as we set up the scavenger hunt.  Special thanks to the following businesses who understand the importance of services for at-risk families and foster youth in our community. Whether you participated in the scavenger hunt or not we sincerely hope you will support these upstanding local businesses:
Amethyst Healing Spa
Dave & Maggie's Café
Duds & Doodads
Express Cash Network
Foothill Family Chiropractic
Fourth Street Mill
Micky's Jewelry Studio
Outdoor Elegance
Rockstars of Tomorrow
Sol Flower
Zubiate Beauchamp LLP
If you have any photos or stories you would like to share from the Easter Egg Hunt please use #DMEasterEggHunt or contact Jadie Delgado
We look forward to seeing you at upcoming events! Thank you for supporting youth in foster care and at-risk families in our community!
Stay current by signing up for emails and the newsletter here. 
And check out upcoming events here