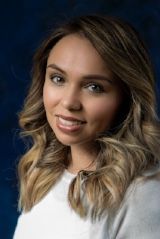 A little bit about Jessie: "I am the youngest of 4 daughters and am the only one from my family to ever go to or graduate college. I got into the mental health field by accident through my mandatory internship class for my bachelors, and ended up being very good at building rapport with clients and problem solving in moments of crisis (probably due to my family experiences). I worked in a residential program for children ages 5-18 who have severe emotional disturbances, and then in a non-public school as an algebra teacher and crisis manager. During my time there I worked with very aggressive, high-demand students, all of which were amazing and I truly learned from. However, fast forwarding to today, I feel as though all my professional and personal experiences have geared me up to know how to advocate and navigate through human services to get my daughter the services she needed to successfully work through her diagnosis of autism. Because of this, I was able to recognize her symptoms early, getting her services from regional center when she was 14 months, a diagnosis of autism at 18 months, and into 40 hours of ABA therapy by the time she was 2 years old. Since then, she has made tremendous strides. I truly believe I was born to be her mother."
1. What do you most enjoy about working here? "I enjoy the face to face interactions I get with the participants in our program, and the insight it has given me to look at the world from a different lens."
2. If you could learn anything, what would it be and why? "How to learn all the different languages of the world, so there would be no barriers for me to explore different cultures."
3. Who are your role models? "My mother. She is by far the strongest, most resilient person I know." 
4. When you were a kid, what did you want to be when you grew up, and why? "Believe it or not, I wanted to run a homeless shelter. My father has a drug addiction and has cycled in and out of rehab/ homelessness my whole life, therefore, I have always had empathy for those who struggle with homelessness and or mental health." 
5. Saying or motto you live by? "Lead with your heart, but take your brain with you."