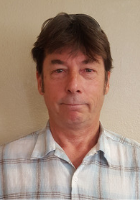 About Mark: The Long Beach native was raised in neighboring Lakewood, and met his future wife while he was playing in a local band. "She thought I was a dork, being in a band, so I quickly wrote a song about her that we played at local gigs. Word got out to her that I wrote a song about her and suddenly I was less of a dork. We dated a few years later."
The music gene runs strongly in their four adult children. Dustin, 35, is a professional songwriter for TV and films; Graham, 33, and Jordan, 28, are each professional filmmakers and songwriters; and Jenna, 31, is a songwriter who is currently managing a major hotel restaurant in Nashville.
Mark has been writing music and playing in bands since age 15 and formed a Beatles tribute band, The Hollywood Beetles, in 2009. "We played all over the country at various corporate and public venues. It was a lot of fun and something I had wanted to do since I started playing," he says. "Being on the road so much was difficult and not as lucrative as I had hoped, so I decided to leave my own band. Kinda sad, but necessary."
He then focused on his real estate business, flipping houses. He and his wife tired of dealing with the reams of paperwork, though, so he sought a 'regular' job. He was summoned for an interview immediately after posting his resume to David & Margaret last summer, "and the rest," he says, "is history."
What do you most enjoy about working at David & Margaret?
I like knowing that perhaps in some small way, our department is actually having a positive affect with the girls here.
What was the most memorable experience you've had at David & Margaret?
Ha, winning a 55" TV at the staff holiday party! Seriously, though, there have been a more than few great moments here.
If you could learn anything, what would it be?
I would love to learn how to paint like Norman Rockwell.
Who are your role models?
Growing up it was Johnny Bench, who was a catcher with Cincinnati Reds. I really admired his dedication to the game. In my teens it was John Lennon, not really for moral reasons, more in the artistic sense.
I have two older friends that I respect a great deal, I look to them for advice and inspiration.
What did you want to be when you grew up?
Race car driver, test pilot, architect, baseball player, actor, rock star. I still want to do all of those. Well, maybe not test pilot or baseball player, but the others for sure! Maybe."