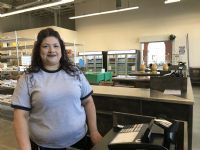 What do you most enjoy about working at David & Margaret?
I enjoy working with the staff and our clients. I like to train them, be a role model for them. I like my customers, and receiving and processing donations. I believe in David & Margaret's mission, so I like to make money for it.
What was the most memorable experience you've had at David & Margaret?
Transitioning from the store's old location in the Whitney Building, where I worked for 14 years, to the new location in the Youth Workforce Training Center. I enjoyed setting up the shelves and getting things ready to open.
If you could learn anything, what would it be?
I would love to learn nursing, but I've been in the retail field for 21 years!
Who are your role models?
Ed (Koshmider, store manager) and Juliette (Bidinger, former Resources manager). I can always go to Ed and get advice, get help with any problem.
What did you want to be when you grew up?
I wanted to be a police officer. I thought I could be brave and strong, protecting myself and helping others in the community, making a difference.