Kevin Kearney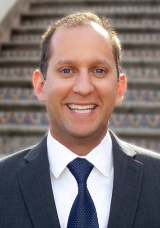 Kevin knew about David & Margaret since he was a child, when he was assessed though the Learning Enhancement Center.  Many years later, his wife served as a Counselor with D&M around 2013.  Since then, his wife continued to work with D&M staff and clients as a Community Liaison during her employment with Chaparral Highschool, a continuation school in San Dimas.  It was through her numerous stories of the D&M clients that Kevin really came to appreciate David & Margaret and their mission.
Kevin is currently a City Manager in the San Gabriel Valley area, where he is responsible for managing day-to-day operations and overseeing all city administration and functions.  In 2017, the California City Management Foundation recognized Kevin as a "Rising Star" in the city management community for his accomplishments as one of the youngest city managers in California.  He was also listed as a "Rising Star" in 2016 by the University of California, Riverside's Professional Studies.
Kevin is currently pursuing a Doctorate of Policy, Planning, and Development from USC and has earned degrees and certifications from Harvard University, UC Irvine, and Cal Poly Pomona.  He is a Certified Public Manager through the University of California, San Diego.
Kevin hopes to bring his experiences with administration, visioning, policy clarity/direction, goal setting, and understanding of political maneuvering to change lives – save lives – and provide hope to the population D&M serves.  It is his desire to help bring second chances to those who never really had that first chance.