Bill Boynton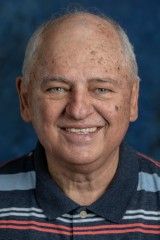 My wife, Fran, and I have five (5) adult sons in our blended family.  We are also the proud grandparents to an eleven-year-old grandson and a five-year-old granddaughter.
I love reading (both fiction and non-fiction), hiking the Claremont Wilderness Loop, going to plays with friends, watching PBS, C-Span and many TV series with my wife and going out for dinner.  However, my favorite pastime is taking family vacations.  Getting the ten of us together is the highlight of each year.
I am honored to return to the board.  Previously, I was a board member for three (3) terms (nine (9) years).  I welcome this opportunity to be a part of the team here at David & Margaret.  They provide outstanding care to the youth they serve.
I spent almost 32 years working in the child welfare profession.  I was a protective services social worker for 19 years and a supervisor for almost 13 years.  Though I am retired, I keep my marriage and family therapist license active.  I think the continuing education requirements keep me abreast of current research, theory and practice.
I hope my education, trainings, experience and practice will help me be a useful member to both the program committee and the general board.
David & Margaret provides a safe and nurturious milieu in which these children and youth can begin to understand their past, work through their pain and change the trajectory of their futures.  With help, they can heal and break the cycle started by the abuse, neglect, abandonment and exploitation they suffered.
Again, I am grateful for the opportunity to serve with such a dedicated and committed staff an organization.