Transitional Housing Programs
Young adults aging out of foster care often need some support to successfully transition into self-sufficiency. They can find that support at David & Margaret. When a young adult is accepted in to one of the Transitional Housing Programs, their rent and utilities are paid and basic home furnishings are provided. In addition, D&M social workers provide the participants with the resources they need to move towards self-sufficiency. Participants also have access to life skills and career and education specialists. David & Margaret creates a supportive environment that renews hope and inspires change as these young adults prepare for life on their own. 
Transitional Housing Program Video Produced with a grant from New York Film Academy - Los Angeles
Director: Lucia Florez; Producer: Drama Del Rosario: Director of Photography: Faisal Aldakheel: Sound Mixer: Asem Nurlanova: Editor: Lucia Florez
Meet Karina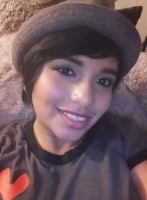 Meet Karina Barrios, one of the many transitional age youth in our Transitional Living Programs who have found the resources they need to work toward an independent, fulfilling life.
"I was in a group home in Pasadena for two years. Once I turned 18, I interviewed for the David & Margaret Transitional Housing Program. I have freedom and independence, but also have a sense of support. They help me take care of my son and [take care of] my needs as well. As I move forward, I hope to become a therapist and help at-risk youth, and be the mom my son can look up to." – Karina Barrio
Karina was the recipient of the 2018 Henry Kuns Award. You can view the video here. 
Transitional Housing Programs
David & Margaret is one of the leading regional providers of services and programs for young adults, like Karina, who are transitioning out of foster care and into independent living. Some of the services provided include:
Case management
Life skills workshops, such as money management, cooking and more
Social events such as group outings to museums, etc.
Vocational training
Paid Internships
Individual mental health services
Career coaching
Educational support including high school diploma completion and pursuing post secondary degrees
For more information
Talk to your county social worker, or come to one of our orientations held every Wednesday from 1:00-4:00 p.m. in the Transitional Living Programs Department, Whitney Building, First Floor. 
D&M offers different types of independent living programs for young adults.
For 18-21 year olds with open cases at DCFS (If you are interested and your case is closed, click here for assistance):
For 21-25 year olds who have a closed DCFS case: 
Rapid Re-Housing program for young adults over 18 years of age that focuses on moving youth that are homeless into housing as quickly as possible
For information please send an email  regarding the Rapid Re-housing program. 
For more info about Transitional Living Programs for youth aging out of foster care, please reach out to:
Briana Ascenio
Administrative assistant
(909) 447-0784