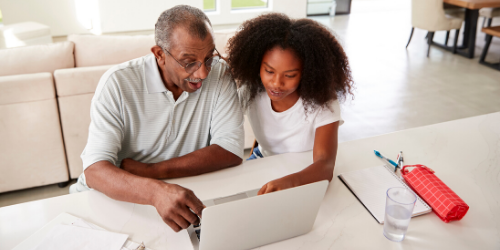 Brenda Evans has been with David & Margaret since 2017 when she was a student at the University of Southern California studying Masters Social Work while completing an internship with David & Margaret's Foster Care and Adoption Agency. From day one it was clear Brenda had a selfless passion to help others and not long after completing her education, she was offered a Master Social Worker position at the agency. 
In addition to the knowledge and skill set of a general social worker, a master social worker has a background in therapeutic mental health services. A social worker's role is to protect and serve vulnerable children and families. When a child is placed into foster care a social worker becomes responsible for their health, safety, and wellbeing. 
"It is our responsibility to make sure the kids are safe and that their needs are met, which also includes making sure the resource (aka foster) parents are compliant and also providing them with the support they need." Brenda Shares. 
Like with most industries right now, methods of service delivery have changed; new policies have been put into place to ensure children and families can still access the social workers they depend on as well as other crucial services. This means, to keep countless families safe, many social workers are now telecommuting when it is appropriate. 
These workers form a strong bond with the children and their families. Keeping constant contact is crucial to ensure the children receive the best care possible and due to the Safer-at-Home order, these interactions have moved to various online platforms.
"These minors," Brenda laughs. "They're so advanced in technology, it's commonplace for them. It turns out to be even more engaging and they have been having such a great time. We sing and play games; they perform, share their art, and talk about what they've been doing with their resource(foster) family, it's been nice."
While most work can be done from home there are times when it is necessary to be in the office or out in the field. Staff take turns working on campus, staying available to meet with a child who has just been placed into foster care or a family who needs computer access for virtual family visitation. If there is a critical issue where a child's safety is in question social workers are still making onsite/at-home visits and doing their best to protect themselves and the families served by wearing personal protective equipment and doing regular health screenings.
Even now, children are entering the foster care system at an alarming rate. These children usually have nothing more than the clothes on their back and while resource family's homes are child-ready, they don't always have everything the child will need on-hand. 
This is not usually an issue but due to current circumstances, many families are struggling to access essential resources. The Foster Care and Adoption Agency have been providing supplies like groceries, cleaning supplies and games as well as masks and hand sanitizer to the children and their resource families. But the need for these supplies continues to grow and there is currently never enough equipment to get through the day. 
If you have the means, please consider making a donation to help support the children and families who rely on services from David & Margaret.

---