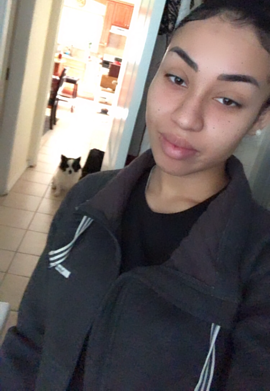 Tiler was introduced to David & Margaret in 2015 when she entered into the residential program for young women and moved into Tarr Cottage on campus. Her hard work and ambition led her to a paid position in the Recreation Department during her stay. She had made so much progress during this time that shortly before her 18th birthday she was able to return home. "I could have put a lot more pressure on myself, but I'm definitely proud of the person I led up to be," Tiler explains. "Dee (D&M employee) was my mentor when I was living here, she was my favorite therapist that I ever had in the system and in general. Because of her and Carlos (Rec. Dept. Manager), I definitely changed my perspective and wanted more for myself than everyone else around me." Tiler was excited about her new freedom at home but missed the atmosphere David & Margaret provided. "I always thought even back then that I was going to come back."
Tiler continued to pursue her education, studying psychology in school while working multiple jobs. Whatever field she was in, Tiler would connect with youth with a history of foster care, and other struggling individuals. She always offered support and would lead them to job opportunities and supportive services. 
One afternoon a familiar face came into an optometry office she was working in, they eventually realized they had spent a week living together in Tarr Cottage! This old acquaintance informed her of an opportunity available at David & Margaret. Tiler jumped at the chance to come back. 
Tiler currently serves as a Transitional Aged Youth (TAY) Peer Support Specialist where she guides and supports at-risk youth with a history of foster care. A key part of her role is providing emotional peer-support to the youth. Tiler's service is through the Americorps. 
AmeriCorps is a network of national service programs, made up of three primary programs that each take a different approach to improving lives and fostering civic engagement. Members commit their time to address critical community needs like increasing academic achievement, mentoring youth, fighting poverty, sustaining national parks, preparing for disasters, and more.
Tiler feels selecting someone with a history in foster care was a good choice. "I can relate to more things the TAY are going through. I have experience in both a professional setting and as a TAY. I feel I can help [the youth and young adults] find their corporate voices and help change their perspectives as they transition into the real world."
"I am learning a lot as during my service here. Now that I'm in this field there are a lot of things surfacing that I didn't realize I was dealing with. It's like a weight has been lifted. Things that I've been dealing with for a long time, I see in my clients too. I took a look at my own life and realized these cycles are happening for a reason and they're happening to other people for a reason. I thought if I'm following all these 'right' steps; going to school, practicing meditation and mindfulness, joining martial arts classes, and exploring spirituality - I should feel better, but I felt worse.  I should be ten steps ahead but I felt like I was going backward. And I realized a lot of my clients were dealing with the same thing.  I thought I need to set a good example,  I needed to talk to a therapist.  I thought there has to be something more to this like a chemical imbalance or something because it shouldn't be this difficult to participate and thrive in society. The therapist has helped me and helped me better support my clients."
"Often, we are our biggest obstacle as TAY. At least for me, my biggest obstacle was definitely myself. Each person is different, but many young adults with a history in the foster care system face real mental health challenges. I know depression is in almost every TAY, unfortunately.  I experienced it myself. Even getting out of bed can horrible - sometimes waking up is like 'here we go again.' It's just easy to fall off and it's hard to get back. But we have to acknowledge it and work to not feel it and keep motivated. It is a daily practice of discipline and focus."
"I want them to learn that they can do it. You're given this card of loneliness, but if you empower yourself and work with the gifts you have you're an unstoppable force.  The world is yours. It's just a matter of a little bit of discipline and focus and that's it. You can have whatever you want in this world and not have to rely on anybody. Learning that first hand and sharing my experience is something I can offer my clients. A gift that only someone with lived experience can give. 
I want to teach them if anything, there is love. There are people out to actually help you, out of the kindness of their hearts, not for a paycheck. That's something that I didn't really understand because I didn't know any empathy at the time. They don't know how to be empathetic because people haven't been that to them. Empathy - love, it's a powerful force. It brought me to school and to want to work in a field where I can love other people and provide them with what I needed at the time."