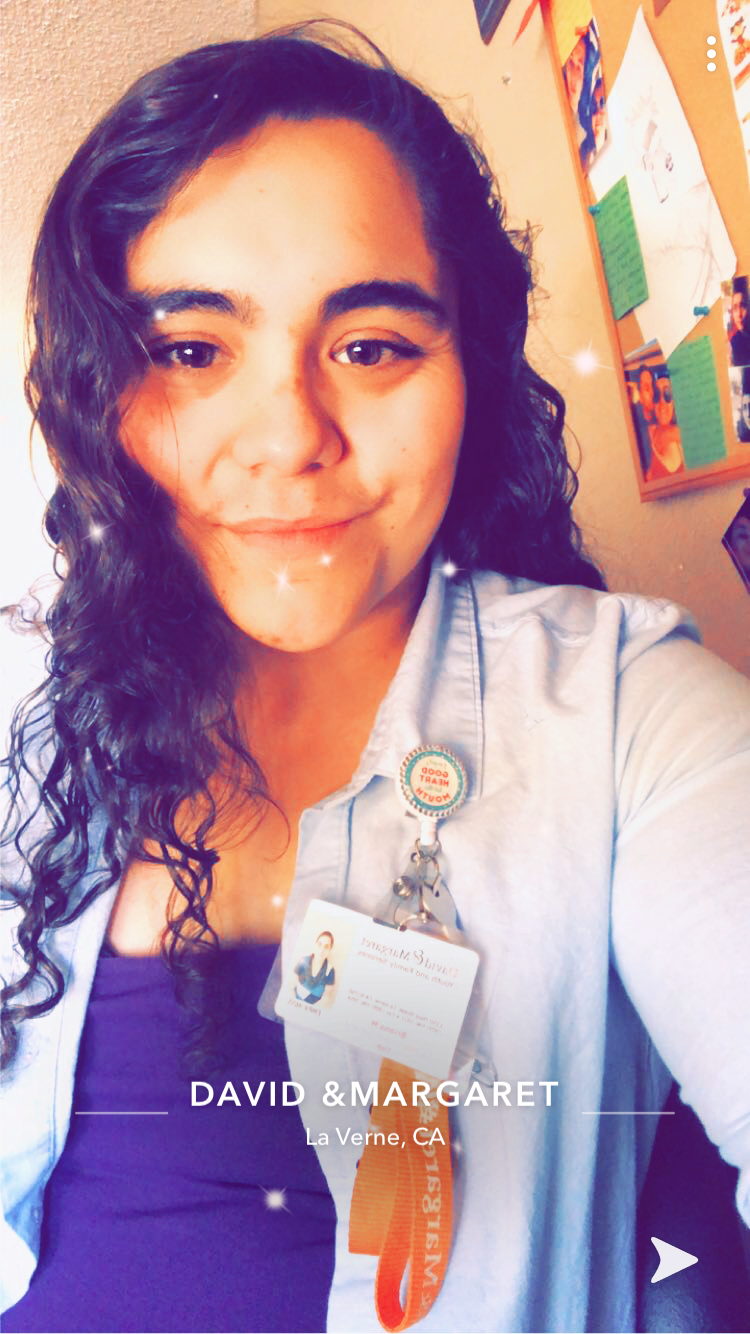 Brianna lost her father when she was 8 years old and her mother when she was 12. She was placed into foster care not long after and by the time she was 17 she came to live at David & Margaret.
Shortly after moving to David & Margaret, Brianna "aged out" of foster care which meant she could no longer live in residential foster care housing. Luckily Brianna had the opportunity to join the Transitional Living Program at David & Margaret, a program that supports youth with a history of foster care.
Every single year, in Los Angeles County alone, 4,000 children turn 18 and age out of foster care. 20% immediately become homeless, 50% will not find stable employment by the age of 24 and less than 3% will have the opportunity to get a degree of any kind.
Brianna is an extremely motivated young adult and has graduated from the Transitional Living Program and currently works as a peer mentor for David & Margaret's C.O.M.P.A.S.S. programs, offering these youth unique support and guidance other professionals can't.
"I do walk a very fine line between staff and client." Brianna shares. "It's a hard job. At the end of the day I am a TAY (Transitional Aged Youth). Every morning when I wake up and every night when I got to bed, I'm still a TAY. I go through the same things the clients go through, I'm just a little bit further down the road in my life."
The difficulties youth with a history of foster care face once they turn 18 has been devastatingly overlooked across our Nation. In an effort to support these "invisible" youth, David & Margaret has increased the scope and type of services offered.
"First David & Margaret had Transitional Housing, then Cedar Springs' permanent supportive housing was added, and then the Workforce Training Program was added and now we're C.O.M.P.A.S.S." Explains Brianna. "I joke with everyone, that it 'encompasses' all the needs, but it's true. C.O.M.P.A.S.S. stands for Creating Opportunities and Making Personal Advancements to Self Sufficiency.
In a nutshell, we're teaching Transitional Age Youth how to be reliant on themselves. And they've always been that; they're resilient, they're strong. They're strong willed and strong minded, but they don't always know it. I think the biggest thing we do is to let them know that one day you're going to be reliant on yourself and you're going to make it. We say 'here are all the opportunities we can provide for you, now let's figure out what you want to do!' Just a chance for them to speak up for themselves and find their path, whether they know they can or think they can't."
"TAY participants  often find it difficult to take advantage of all the supportive services D&M provides and having Brianna onboard has drastically increased program participation." According to Marissa Scholefield, Director of C.O.M.P.A.S.S. programs. Brianna shares her success, stating "even if I were to leave here today, I still made an impact in more than one person's life in these past six months." Brianna provides invaluable support to the TAY and we are thrilled to have her as a part of the staff.
This quote has given Brianna much inspiration over the years. "For I know the plans I have for you, Plans to Prosper You and Not to Harm You, Plans to Give You Hope and a Future." It seems a fitting quote to share in celebration of the work she does to renew hope and inspire change amongst her fellow Transitional Age Youth.
Aging out statistics source http://socialracemedia.com/51-useful-aging-out-of-foster-care-statistics/