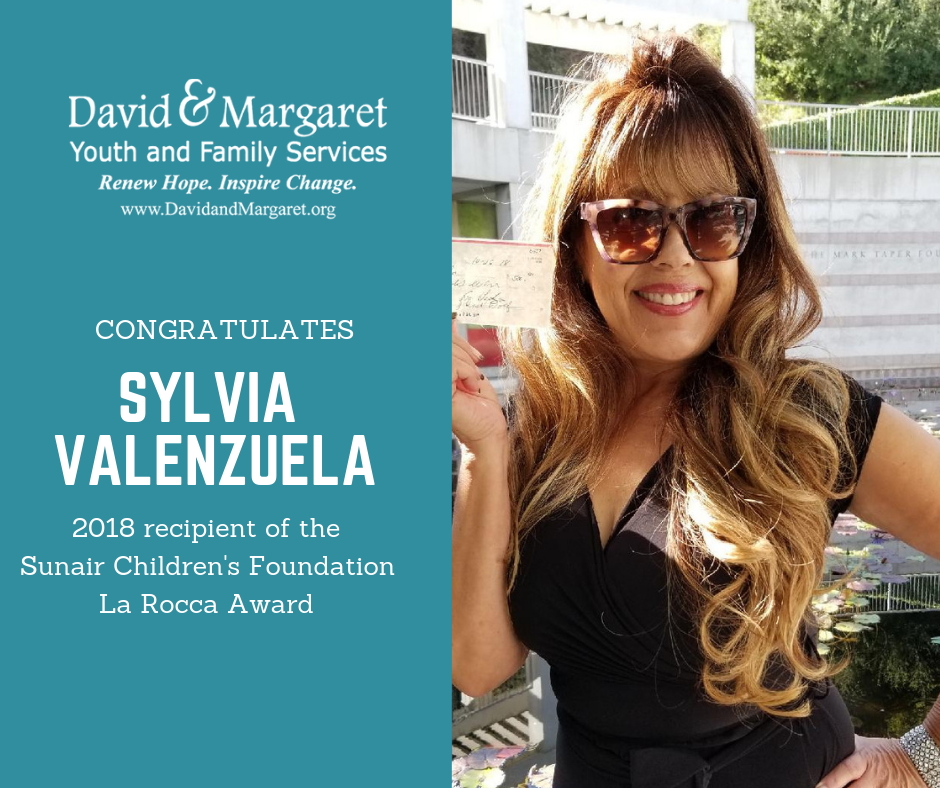 Sylvia Valenzuela has worked at David & Margaret Youth and Family Services since June of 2001. During her tenure she has worn many hats and served in various positions. She has been a relief counselor as well as a counselor in the residential foster care programs and is currently in the role of School Resource Specialist. Regardless of her position she has worked tirelessly to put the needs of the youth first and to make sure they are able to achieve their goals. 
"She has a natural gift to make each youth feel welcomed, cared for and supported" according to Charles C.Rich, Executive Director. Ms. Valenzuela has a positive energy that you can't help but notice when you observe her at work. She has managed to find a balance of taking care of the youth as well as herself. In her 17 year tenure she has never missed a day of work!. Thank you Sylvia for all you do!
All of us at David & Margaret are grateful to the Sunair Children's Foundation for recognizing Ms. Valenzuela's hard work, commitment and kindness to the youth who come to David & Maraget. 
About Sunair Children's Foundation
Each year the Sunair Children's Foundation recognizes an employee of a non-profit organization for their dedication to a cause of children and young people, by presenting him or her with a $500 cash award known as "The La Rocca Award".
This annual recognition is made through the generosity of family and friends of the late Jacqueline W. La Rocca who for many years was a Chairperson of the Women's Division of the Sunair Home For Asthmatic Children and a member of the Board of Directors. It is our hope her keen interest in the cause of children will be remembered through this memorial tribute in her honor, and that this award raises the status of individuals who work with children and motivates talented people to remain in the field.
The candidates for the La Rocca Award shall: 1) have been employed with your organization for at least three years; 2) be at least 21 years of age; 3) be a hardworking and dedicated individual deserving of this recognition.