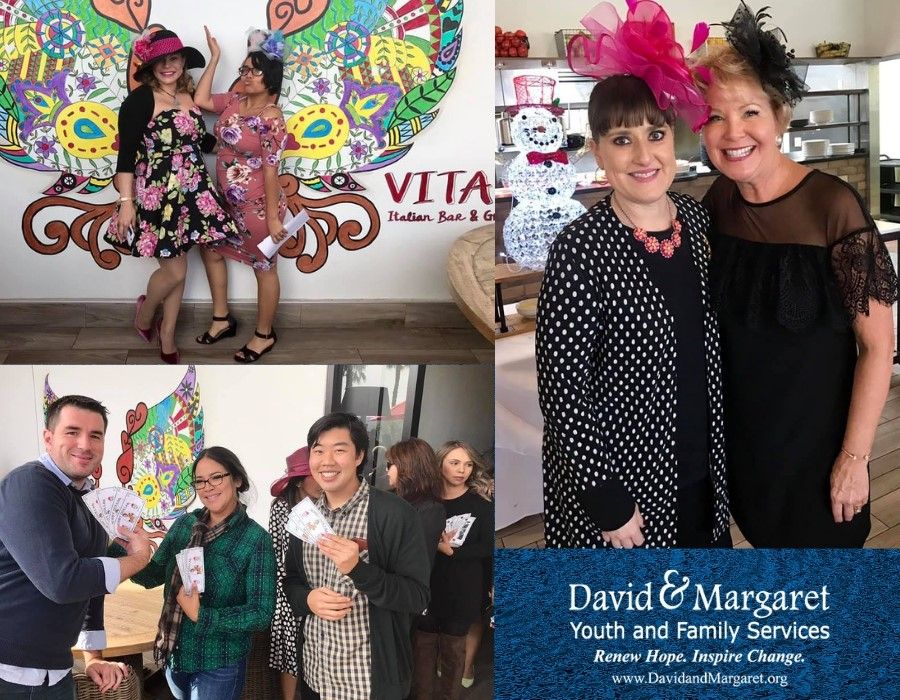 A few times each year, David & Margaret employees enjoy some down time with friends from other departments – at our annual employee picnic, for instance, the yearly MUCK Awards (where we poke gentle fun at ourselves and each other), and especially the Holiday Party. This year, the ace Employees Activity Committee (EAC) pulled together Derby Day-themed activities on Dec. 12 at the Doubletree Hotel's Vita Italian Bar & Grill in nearby Pomona.
Attendees who dressed the part – big hats for the ladies, suspenders and bow ties for the gents, or 'Del Mar casual' for anyone – took part in a Best Dressed competition that was voted on by their peers (the biggest hat was actually worn by a man!). Traditional ornament and gift exchanges got a new twist, and there were raffle prizes galore.
The highlight of the afternoon was a pre-taped, televised horse race, which employees got to 'bet' on using customized funny money. Winners in the win, place and show categories received extra raffle tickets for prizes that included one- and two-night stays at the Doubletree, a tablet computer, and a big-screen television. Festivities were emceed by Corey Newman of DJ Party Pros, a long-time David & Margaret favorite, who was joyfully welcomed back after a year of health challenges.
David & Margaret staff work tirelessly year-round to support and empower youth and families to be their best selves. The D&M Staff work to Renew Hope and Inspire Change on a daily basis.  It was a pleasure to take some time out and acknowledge all they do. 
However YOU celebrate in December – whether it's Christmas, Hanukkah, Kwanzaa, Festivus, or just reveling in another beautiful month in Southern California – we wish our friends, supporters, donors and the public the very best in the coming new year!