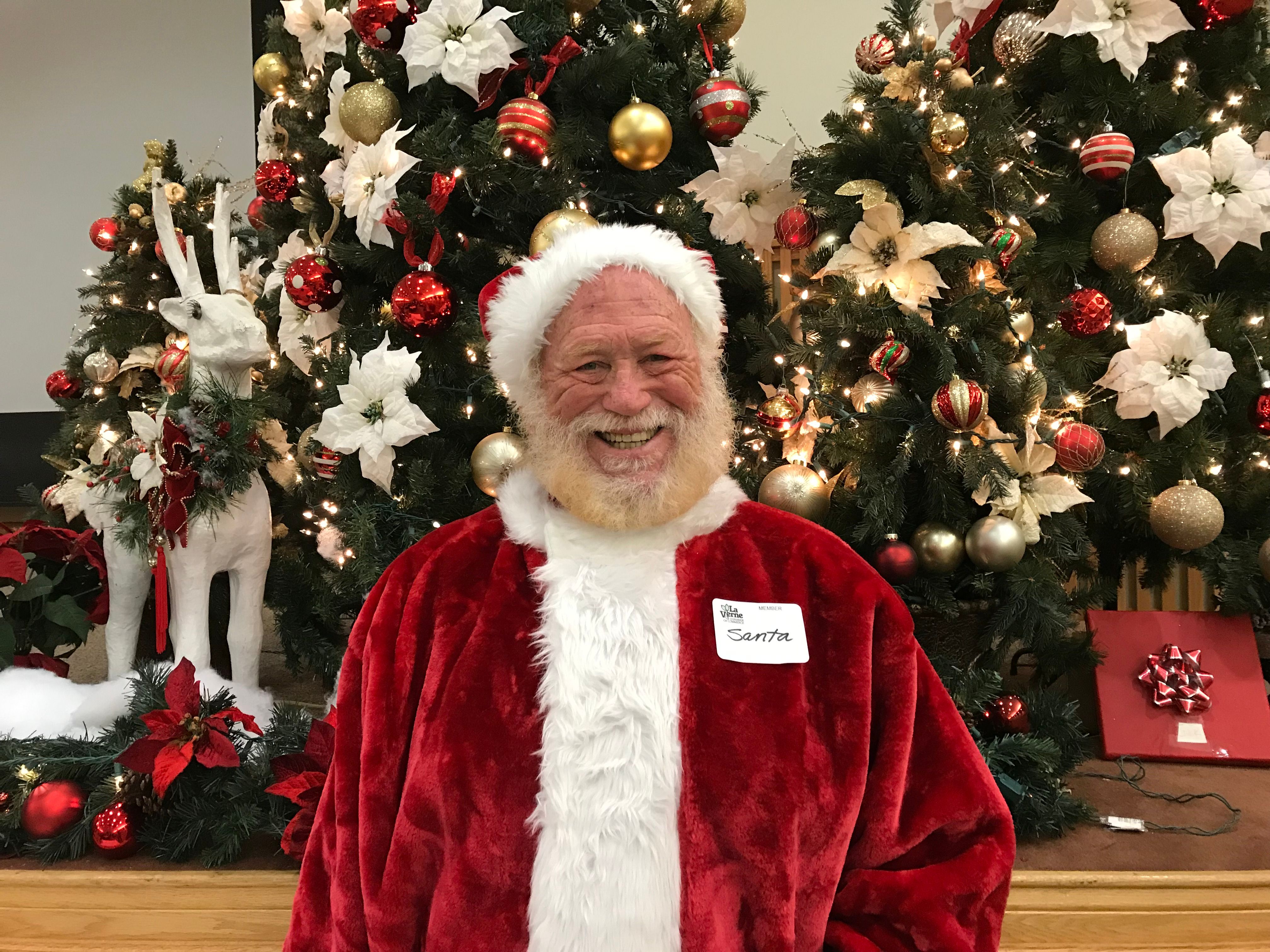 He looks so much like Santa that some people greet him that way year round. "I'm going to start telling people that I really am Santa and I just play Jack Wear the rest of the time," he says with a laugh.
Jack, a long-time resident of La Verne, has been delighting visitors as Santa at David & Margaret's Annual Holiday Open House since 2011, as well as at the agency's Foster Family and Adoption Agency holiday party. He especially enjoys the wide-eyed younger foster children – maybe the real beard and genuine interest make them think he's the real deal? – and trying to get the older, too-cool-for-Christmas teens to crack a smile as he distributes their gifts and poses for pictures at the party.
He has for several years been the featured guest at Claremont Sunrise Rotary's annual holiday dinner for its members and their families, and if his dance card isn't full enough, he appears at the La Verne Chamber of Commerce holiday luncheon in full regalia so Chamber members can get some Santa time, too.
Jack donates his time and talent to these nonprofits. His only paying holiday gig is at San Dimas Canyon Golf Course, where he is a starter and golf instructor, challenging golfers to beat his puts or drives while he is in Santa costume. (Be warned: St. Nick went to PGA qualifying school, and while he didn't end up on the tour, he still has a pretty mean handicap.)
He started his career as Santa in the 1980s at his Army reserve unit in West L.A. when its reigning Kris Kringle retired. Back then, as a lieutenant colonel, he had to be clean shaven, so he donned a cottony beard to complete the traditional red-and-white outfit. Today, at age 73, he wears a natural beard all year and starts growing his whiskers longer in November … and will, for many holiday seasons to come.
Join Santa and friends at David & Margaret's Annual Holiday Open House, Saturday, Dec. 8, 3-5:30 p.m. Enjoy the Residential Program cottage decorating contest, live entertainment, and a holiday boutique. For information, call (909) 506-5921, ext. 3180 or email GriffithJ@DavidandMargaret.org.