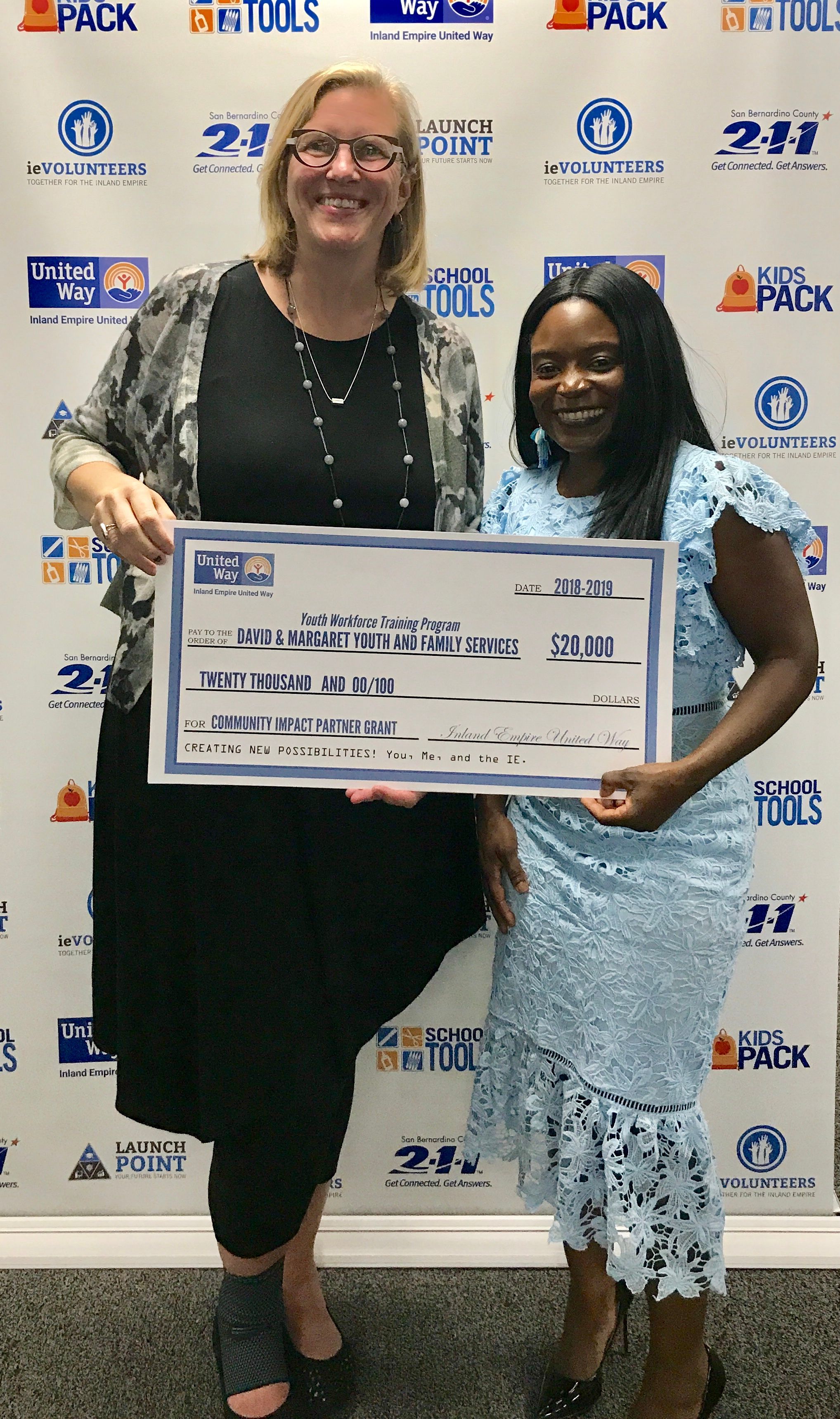 David & Margaret Youth and Family Services in La Verne is pleased to announce that it has received a $20,000 grant from Inland Empire United Way. The funds will support the Youth Workforce Training Program for youth who are transitioning out of foster care.
The Youth Workforce Training Program provides job readiness skills, life skills and on the job training to youth ages 18-24 (Transitional Age Youth, or TAY). TAY are given the opportunity to participate in a work experience program that allows them access to life skills classes, literacy classes, professional development lectures and the opportunity to gain 160 hours of paid on the job training and skill building.
Clients are given the fundamentals of how to obtain and maintain work while earning and managing income to support themselves and/or dependents. They are also offered one-on-one sessions with a job coach and have access to social workers and mental health services as needed. The agency's annual goals are to place up to 24 TAY in paid internships and up to 125 TAY have the opportunity to access the program services including life skills, job-readiness, and career exploration sessions.
"This has been an exceptional year for the Youth Workforce Training Program, which wouldn't have been possible without IEUW's invaluable support," says David & Margaret Executive Director Charles Rich. "Our newly built facility is providing new internship opportunities, as well as dedicated classroom space for the transitional age youth programs. There are also staff offices on-site providing immediate access to staff for the TAY. This has fostered relationships and enhanced learning opportunities."
A vital part of Inland Empire United Way's mission is partnering with other results-oriented nonprofits in the region that are equally dedicated to improving the lives and futures of low-income families in the areas of education, health, and financial stability in the Inland Empire. Each year, a volunteer review team, comprised of local donors and community representatives, conducts a diligent review of programs to determine the best investment of United Way's dollars.
"Inland Empire United Way is proud to support the David & Margaret Youth and Family Services. A place where they are actively renewing hope and inspiring change in the lives of young people throughout the Inland Empire," said Dr. Felita Jones, President and CEO of IEUW. "Their efforts to help equip young individuals in the areas or workforce and career readiness is both unique and customized for maximum potential. We are excited to see their continued progress in helping developing our youth for self-sufficiency and being skill ready, and are delighted to be able to award them $20,000 to greater assist in these areas."
About David & Margaret Youth and Family Services
Established in 1910, David & Margaret serves more than 1,700 clients annually through a comprehensive range of 18 programs. In 2015, the Cedar Springs Apartment complex opened on the agency's south campus to provide increased housing and supportive services for youth transitioning out of foster care. In 2017, the Youth Workforce Training Center opened, featuring a store (open Mon.-Sat., 9 a.m.-5:30 p.m.) and café (open Mon.-Fri., 8 a.m.-3 p.m.) that are open to the public, to give transitional age youth valuable work guidance and experience. To learn more, contact Development Director Maggie Bohlman at (909) 596-5921, ext. 3246, or BohlmanM@DavidandMargaret.org.
About Inland Empire United Way
Inland Empire United Way is committed to improving the lives and futures of children and families in need by investing in education, health and financial stability. We are proud that contributions given local, stay local and an impressive 88 percent of every dollar is invested in direct program activities. By partnering with a network of local nonprofit organizations, United Way delivers critical services to our community, connects individuals in crisis with needed resources through 2-1-1, and increases the power of local charities by providing volunteers.