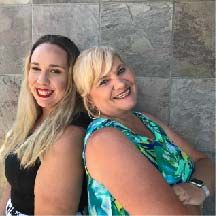 "I found out about David & Margaret years ago through a former board member," says Darcy Coulter, "when the focus was mostly on young girls in foster care. My own two daughters are so fortunate, so I wanted to get involved." Not only did she get involved, she has been one of the 108-year-old agency's most outspoken advocates for the past seven years.
She joined the Board of Directors for a short time, then left for work reasons, "but I always had it in the back of my mind," she says. She eventually joined Southern California Edison (SCE) in human resources management, and discovered that the company would match donations for schools. She promptly headed up a fund-raising drive on behalf of David & Margaret's Joan Macy School. "I got reconnected and asked about a board position," she says. "I ended up on the Personnel Committee, and after a while, was asked to submit my resume for Board consideration." She has since been a Board member for seven years, and last year emceed David & Margaret's annual gala.
Coulter's energy and enthusiasm are contagious. "One thing I tell people is that David & Margaret started as an orphanage, and if we dug in our heels and said 'no! We're not going to change!' we'd be out of business," she says. "We're always scanning the community to see what the needs are. I really like that. But the number one goal of any business, for-profit or nonprofit, is to stay in business; you need the resources to survive."
She notes that while government funding pays for the actual provision of services, there is so much more that the agency needs to operate. "It takes a lot to provide the breadth of programs and services to make a difference in these kids' lives: housing, counseling, independent-living training. As the saying goes, give a man a fish and feed him for a day, but teach him to fish and feed him for a lifetime."
And that's where Coulter's skill and passion for fund raising comes in, be it something as significant as a grant, cultivating a new board member, soliciting sponsorships for the agency's annual fundraiser, or as small as buying holiday gifts for a single child. An avid cyclist, she recruited members of her bicycle club to donate toys and gift cards for the holidays. "I was practically pulling people off the street, saying, what's buying presents for one more kid?" she says with a laugh. "It also helps get people involved with David & Margaret. I'm always thinking about how to bring them in – every gift matters, every little thing."
She will be termed out as a Board member in 2020, but plans to stay active by participating on Board committees. She also has an eye on filling the position with her 26-year-old daughter, Dallen, a certified energy manager and engineer at Coulter's own former employer, SCE. Dallen finds time between her demanding job and work on her master's degree to do some consulting with David & Margaret on ways the agency can save money on energy costs.
"We need to recruit people, including young people, whose skills and knowledge can help," she adds. "It's a good way to groom future Board members."
Want to help David & Margaret as a board or committee member, or with fund raising? Contact Development Director Maggie Bohlman at (909) 596-5921, ext. 3246, or BohlmanM@DavidandMargaret.org