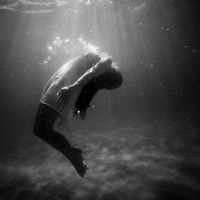 May is National Mental Health Awareness Month, and mental illness take many forms; for example, depression, bipolar disease, or addiction. Addiction has been garnering a lot of attention recently, and no wonder: A 2017 survey by the National Institute on Drug Abuse found that one in 10 Americans – about 24 million people – have an addiction issue.
Men and women have different challenges surrounding addiction – men as providers and fathers, and women as caregivers and mothers. Melissa Okimura, Recovery/Commercial Sexual Exploitation of Children (CSEC) Treatment Coordinator at David & Margaret Youth and Family Services, offers some insight into the special issues facing girls and women in the grip of addiction and trying to gain, and maintain, sobriety.
"It's really difficult for women who get into substance abuse treatment, whether they are youths or young adults," she says. "Once treatment is done they kind of fizzle out, and risk of them relapsing is higher because they don't continue to stay supported or stay connected in that foundation. This means attending a meeting or a spiritual group, or just trying to stay connected outside their family dynamics."
Once women have children, Okimura notes, they tend to put their own needs last, to the detriment of their sobriety. "Then a situation happens and they no longer have that proper coping mechanism, so they regress into their addiction," she says.
"It's very difficult for women because they feel they have all these other things they need to take care of before themselves, and they don't see their needs as important. They will go right back to their addiction, right back into criminal activity, going in and out of the jail system and treatment. It often takes more times for them to recognize that and want to change."
There is really no typical period of time between when people first try a substance and when they seek treatment, and the next step, which is maintaining sobriety. "Every case is different," Okimura says. "Something major has to happen in their life for them to change their whole perspective. It doesn't matter how much prevention we give them, how many supportive services we offer. If they don't want to change when they finally leave here, they are not going to change, until something happens.
"In recovery meetings they talk about jails, institutions, and death, because it might take a life-or-death experience to take them out of the cycle," she adds. "But that's the result of addiction and, in a way, playing this game of going back and forth. Our role as counselors is to help them find alternative coping skills and make better choices for themselves, so they can successfully maintain sobriety."
There are many resources for mental health care in the East San Gabriel Valley, including National Alliance on Mental Illness (www.namiinlandvalley.org) and Tri-City Mental Health (www.tricitymhs.org). For information on mental health services at David & Margaret Youth and Family Services, contact Jackie Gonzales at (909) 596-5921, ext. 3510, or GonzalesJ@DavidandMargaret.org.