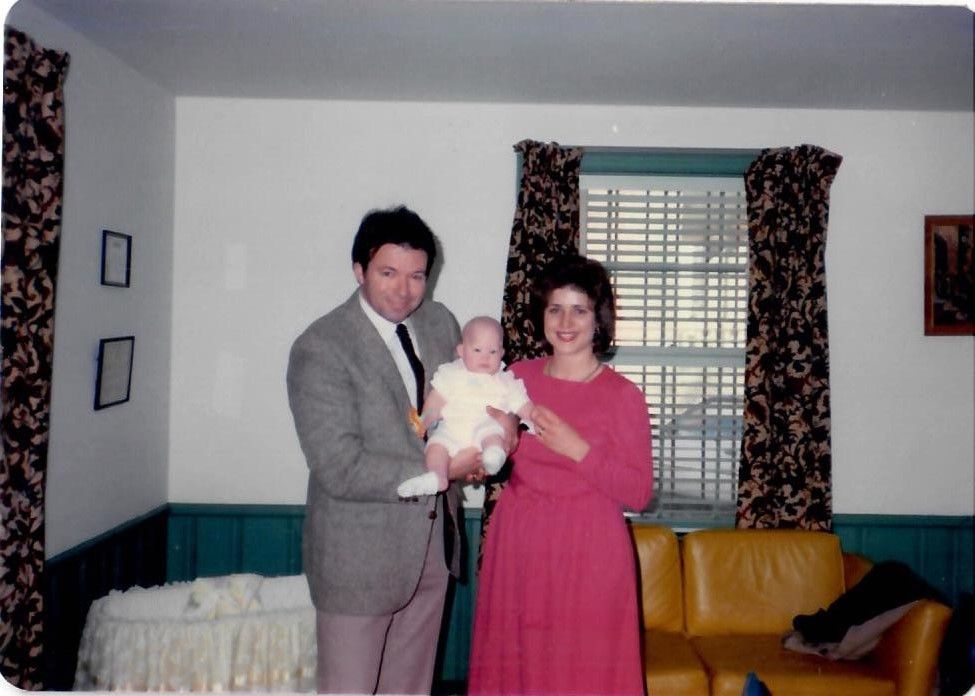 This family's story is one that was built with love through adoption. Whether it is fost-adopt, private adoption, international adoption, or a kinship adoption they all share love as the bond that brings them together. This particular story is told in two voices. First we hear from the adoptive mom and then from the, now adult, daughter. This is a story that  started over thirty years ago, told looking back, from two perspectives, over happy lives filled with the joy and love of a family that was formed through adoption. 
The Mother's Story: My husband and I adopted Kimberly from Catholic Charities in Norfolk, VA when she was four months old.  We live in Northern Virginia, but fate led us there.  We had our first interview with the agency in September; little did we know our baby had already been born!  On Monday evening, January 6, 1986 (the Epiphany) we received a call from our social worker that they had a baby to place with us, and they wanted us to come down for her right away, that Wednesday!
Our first meeting with baby Kim was rough.  She was beginning to recognize strangers, and cried so hard when I held her that I couldn't really tell what she looked like!  The agency had us come back the next morning.  When we came back, she was peaceful and we could see then that she was beautiful!  We brought her home and we became a family.
The Hallmark baby book I had purchased in advance was for the adopted child, so she always knew she was adopted; there was no big secret revealed one day.  My Dad had some reservations when we told him we were adopting, but one look at her and his heart melted.  Kimberly was only five years old when he passed, but the special bond they shared lives on.  I recall a cousin saying what a wonderful thing we did by adopting.  In truth, it was her birth Mother who did a wonderful thing out of love for her, so baby Kimberly could have a better life than she could provide.  We were just the lucky ones.  Baby Kimberly has brought so much love to us and our extended families.
The adoption triangle is a beautiful love story.  On a day to day basis, I forget that Kim and her brother, who we adopted three years later also from Catholic Charities, are adopted.  They are my biggest blessings and I am grateful to have them.  I am equally grateful that their birth Moms not only chose life for them, but also chose a better life for them.  They are loved.
The Daughter's Story: I'm adopted. It's one of the first things you learn about me right after my name.  I've always been extremely open and proud of the fact that I'm adopted. In high school my friends and I had an informal adoption 'club', in college I wrote a paper on the subject, and now I wear a necklace with the adoption symbol proudly.
My parents are a major influence in making me feel this way. Growing up they made adoption seem like a every day occurrence. For instance, every Christmas we would go to Breakfast with Santa hosted by Catholic Charities, our adoption agency.  All of the kids there were adopted.  I remember as a young kid thinking that everyone was adopted like me. (Who knows where I thought all the babies were coming from!)
Even though adoption always felt like a normal thing in our family, it also felt important and special. Recently, when going through some of my old things at my parents, my parents and I pulled out my baby book.  It looked like any other baby book but it had special prompts to fill in for adoption.  My mom had meticulously filled out with every detail that she could fit onto a page. There are stories about the first time my parents met me, where they were when the got the call, and they day they could finally call me their daughter.  Though, as I write that, I can hear my mom say "you were always our daughter". I meant legally, Mom!
Yet, I don't need the baby book to remember these stories. My mom has recounted the story of when she and my dad got the call that they were going to parents so many times I can recite it from memory. Every time she ends the story the same way; she is so lucky to have my brother and I, Then gives me a big hug.
But I'm also lucky. 
I feel lucky that my birth mother chose adoption for me.  I feel lucky that I was placed with the family that I have. There is so much love in the adoption process and I feel lucky to be a part of it. Which is why when you first meet me, I'll proudly tell you that I'm adopted.
Want to explore whether fostering or adoption is right for you? Contact our Foster Family Agency at (909) 596-5921, ext. 3189, or Foster@DavidandMargaret.org.