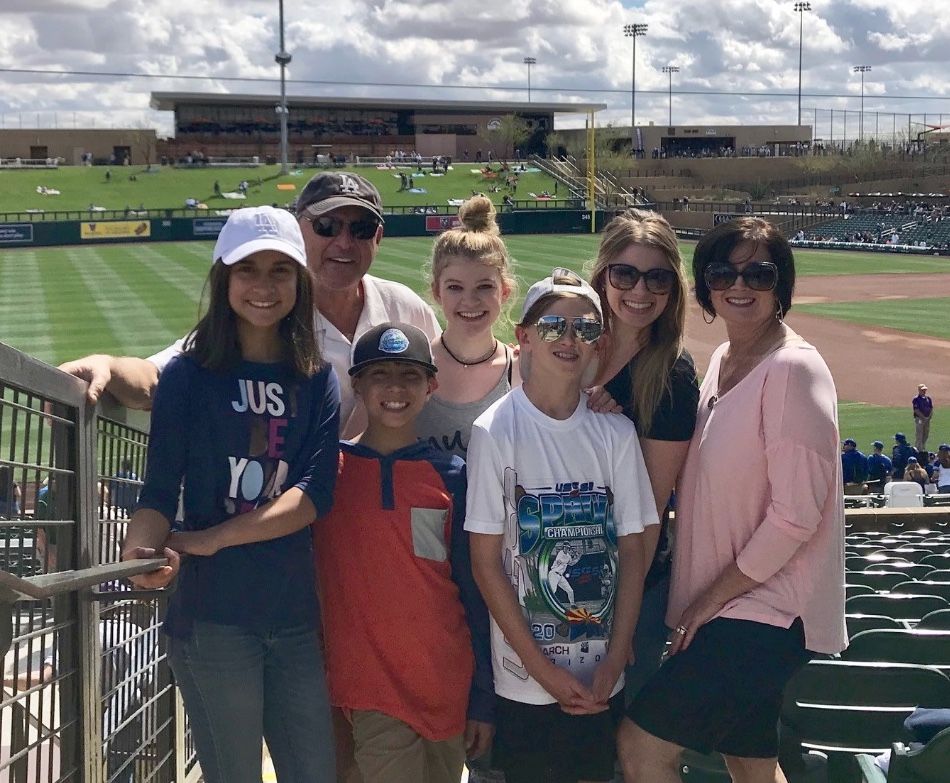 The Patick family's adoption story started with American Idol and a daughter who wanted to help kids without families.
"We were watching American Idol one of the first years it was on, and they did an Idol Gives Back telethon to raise money for various causes to help children across the country, including kids in foster care," recalls Marsha Patick. "It was very moving, heartbreaking to see kids in these circumstances. Our daughter Skylar, who is now 17 but was probably 6 at the time, didn't understand how kids didn't have families. She wanted to know if we could adopt them all. We said we couldn't adopt all of them, but she never let up on adoption. Every night when I tucked her into bed, Skylar would say, 'Have you asked Daddy?'"
Dad Corey was unsure about the impact that a new addition, and the adoption process itself, would have on the family, which includes their older daughter, Savannah (now 20), and son, Sterling (now 13). He eventually came around, and brought up the topic himself.
"Later we sent Savannah and Skylar to a church camp, and in the bulletin there was an ad for an adoption meeting," Marsha says. "My husband kind of nudged me and said that maybe we should go. So we went to the information meeting, and the next week I got the paperwork going. We started classes and he'd joke, 'We're going to learn how to be parents'."
But there is a lot to know about being foster/adoptive parents, event for seasoned moms and dads. They learned that through the Department of Children and Family Services and/or a private nonprofit foster care and adoption agency, you could foster a child. All children in foster care have a goal of being reunified with their biological families. Sometimes, however, that is not an option, and in those situations, a child will then be available for adoption. This is often referred to as "fost-adopt": You foster with hope to adopt. Fost-adopt was the path the Paticks took to grow their family.
"We were done with the classes and paperwork in three months and started to get calls about placements," she says. "We were trying so hard not to fall in love with a child and not be able to adopt. But we learned through the process that it's about loving a child, not protecting your heart. Six months later we got a call on 5-year-old Ashley and 3-year-old Jacob, a sibling set. We'd met them at an adoption fair, but the social worker didn't think at the time that we were right for them. But we got a call that their placement fell through, and they were placed with us on Jan. 9, 2010." (They'd met the Paticks' three kids a week earlier.)
Ashley and Jake were adopted at the end of the routine six-month waiting period. After seven placements in three and a half years, Ashley, now 14, says, "I was so happy to know that we weren't going to leave this place, and we'd have siblings." Jake, now 12, adds with a laugh, "All I know is that I got a teddy bear at the adoption ceremony."
The transition period for emotionally blending the new family took longer. "In classes they told us the age of the child doubled, plus a year, is how long it usually takes to adjust," Marsha says. "I home school all the kids, and I thought that with home schooling, that adjustment time would shorten because our day with them didn't start at 3:00, like if we'd sent them to a community school. I feel like it did help."
But there were, as might be expected, a few bumps in the road. "For instance, Jake and I fought about food," Marsha says. "He acted like he'd never seen anything green on his plate. We had a mantra for a while: 'We can battle it out, but mommy's always right.' One social worker said he might have been acting out because it was an area of his life that he could control. There were lots of dumb power struggles and trust issues to work out. Given all their placements, they'd had no consistent boundaries in their lives, no consistent schedule. An established schedule and consistency offer a child stability. Boundaries give everyone more security. There was pushback because they weren't used to it.
"People want to glamorize adoption. These are all my kids, but it took a while to get to the place where we could all relate to each other with ease," she adds. "There are family members of ours who come for Thanksgiving every year, and every year they'd comment on how much more settled the kids were. It was a reminder to me that long-term changes were being made, even though day-to-day it was hard to see."
Want to explore whether foster or adoption is right for you? Learn more at our orientations in English or Spanish, or contact our Foster Family Agency at (909) 596-5921, ext. 3189, or Foster@DavidandMargaret.org.