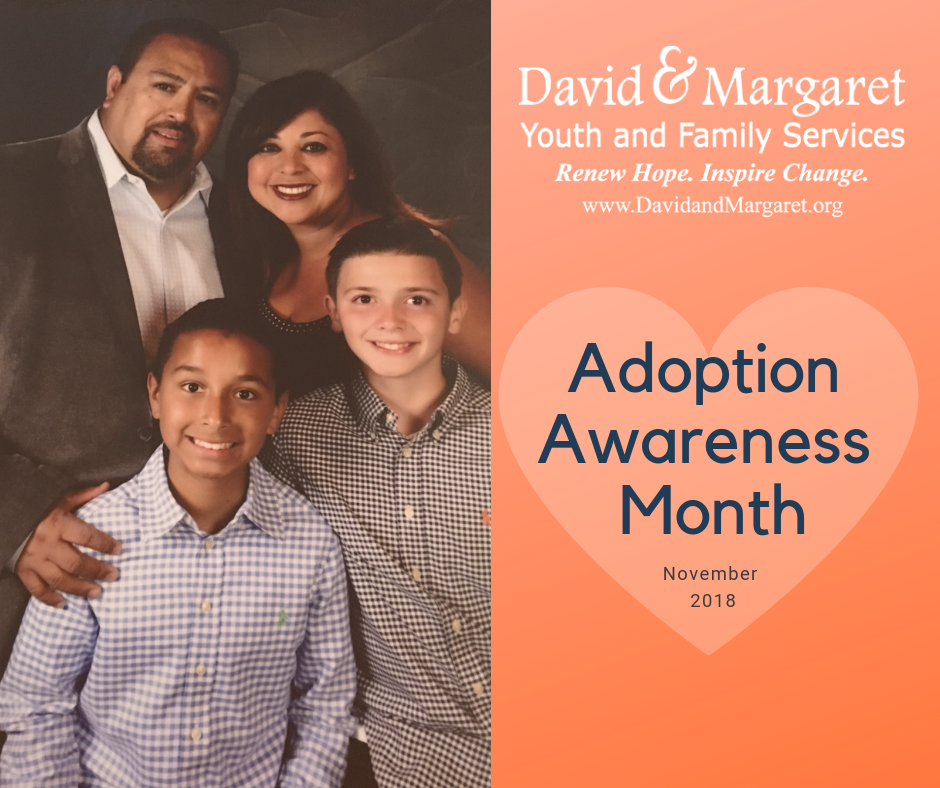 Claudia Enriquez always knew there would be children in her life. "I knew from the time I was a teenager that I would have two and adopt one," she says. Then life threw her a curve ball.
Claudia married her husband, Hobed, when she was 24. They started trying for a family a year later. "You think that as soon as you start trying, it'll happen, right?" she says. But for a year, it didn't. "Then we did fertility treatments for two years, but discovered that I don't ovulate. The next step was in vitro, but my amazing husband said that we should think of adoption instead as there are so many children out there that need a home."
Initially, they planned to visit an orphanage in Tijuana "because private adoption in the U.S. is so expensive," Claudia says. "But one of Hobed's customers told him that he adopted his son through a local nonprofit agency."
Claudia and Hobed educated themselves about the adoption process and learned that through the Department of Children and Family Services and/or a private nonprofit foster care and adoption agency you could foster a child. All children in foster care have a goal of being reunified with their biological families. Sometimes, however, that is not an option and in those situations a child will then be available for adoption. This is often referred to as fost-adopt, you foster with hopes to adopt. Fost-adopt was the path Claudia and Hoped chose to grow their family.
So the next question was, boy or girl? "In my heart I wanted a girl, but I didn't say it," Claudia says with a smile. "You can dress them up and they're so lovey-dovey. But I prayed, please Lord, give me the one that is going to stay. Lord, you know my heart. My son Joel was my first placement, and we got him when he was six months old. He was the one I was waiting for, and I instantly fell in love. He was my gift from God!"
Their case worker cautioned them that babies are very popular and Claudia and Hobed might not get to keep Joel, but the adoption was finalized when he was two years old. Claudia says that adoption day was one of the happiest days of her life!
Wanting another child, they fostered a three-year-old, "but we kind of knew that he'd go back to his home, and he did. Our case manager mentioned that there was an adoptable three-month-old boy, so we asked to meet him. We again were instantly in love, and knew that Ivan had to be part of our family." Ivan, two years younger than Joel, soon joined their family and also was adopted at age two.
They told the boys they were adopted when Joel, now 15, was in 4th grade and Ivan, now 13, was in 2nd grade. "Joel is more sensitive and had a few tears, and asked if we could adopt a little girl as he wanted a little sister," Claudia says. "Ivan – there were no tears and nothing to say. Our families never talk about them being adopted and they don't see themselves that way. We're just their family. They are so loved and they were so wanted! Joel and Ivan are what we prayed for with all our might and we are so Blessed to be their parents!"
Claudia in the Program Assistant /Registrar for Joan Macy School, a division of David & Margaret Youth and Family Services.  We are grateful to her and her family for sharing their story. Want to explore whether foster or adoption is right for you? Learn more at our orientations in English or Spanish, or contact our Foster Family Agency at (909) 596-5921, ext. 3189, or Foster@DavidandMargaret.org.