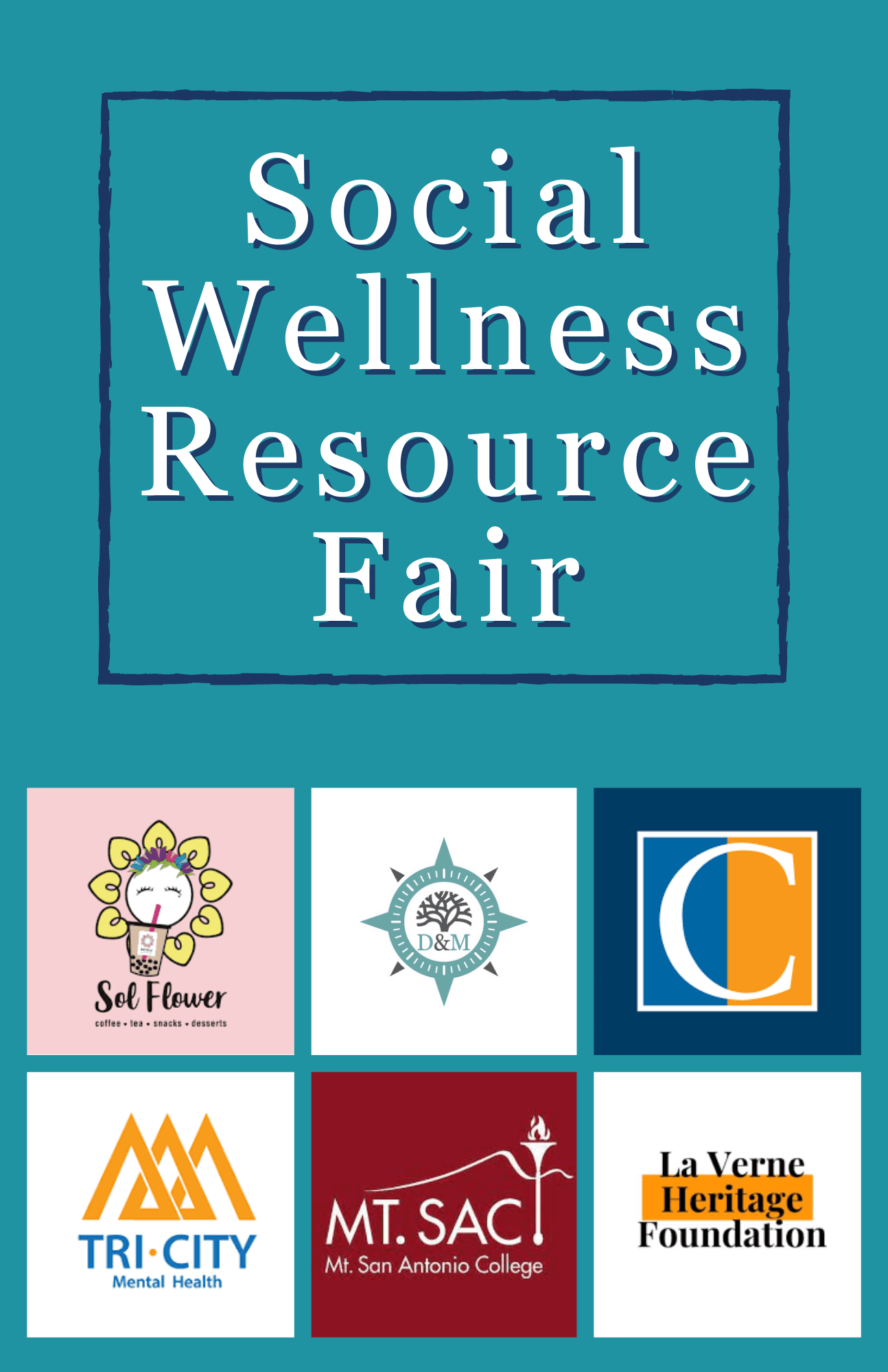 Last month on September 30th, COMPASS Programs held another quarterly resource fair where community partners come together to inform each other of the services and resources available to the young adults in the COMPASS Program. Each quarter focuses on one of the four aspects of wellness: Intellectual, Emotional, Physical, and Social. This time around, the theme centered around Social Wellness, featuring two community colleges, a local boba shop, a wellness center for Transitional Age Youth (TAY), and the La Verne Heritage Foundation.
The first to present was SolFlower, a local boba and snack shop in La Verne. They discussed their involvement in community events, like fairs and farmer's markets before and during the COVID pandemic, giving customers the option to enjoy their tea and food outdoors. They also showed pictures of the shop and the steps they are taking to ensure safety for staff and customers including plastic barriers, mask mandates, and social distancing. With these precautions in place, young adults can feel safer socializing at their local café. Check out SolFlower's Instagram to keep up with the latest about their shop!
Next up was Citrus College, a local community college in the area. Citrus College offers supportive services to students that can connect them to resources they need, like housing, mental health care, and CalFresh benefits. Beyond providing access to these crucial services, Citrus College offers over 70 student activities per semester! With options like social justice and cultural events, student government, ally training, and special interest clubs, students are bound to find something that suits their interests. This semester, all student activities are being held virtually to protect students during the pandemic. In-person activities will hopefully return during the Spring semester. Check out their website to see how to get involved!
Third to present was Mt. San Antonio College (Mt. SAC), a community college in Walnut. Similar to Citrus College, Mt. SAC has supportive services to connect students to the resources they need. Additionally, their REACH program is specifically designed for current and former foster youth and provides extra support, specialized workshops, and socializing opportunities with peers. Mt. SAC also offers its own array of clubs and activities for students, including networking mixers that can introduce students to potential employment opportunities. Clubs are held in person or virtually, depending on what that club chooses. Check out all the clubs at Mt. SAC this semester on their website!
The following presenter at the fair was Tri-City Wellness Center. Tri-City is one of our closest partners as they offer a wide range of services ranging from housing support, to mental health services, to programming for TAY in their wellness center. To address social wellness, they discussed the weekly groups they host for TAY. The groups are held both in-person and virtually, giving youth the option to participate however they feel most comfortable. With groups like self-care, game night, and pizza parties, TAY have a safe space to socialize and connect with their peers. Check out their TAY Resource Center webpage to see their full calendar!
The final presenter of the afternoon was the La Verne Heritage Foundation. The La Verne Heritage Foundation has been a pillar in La Verne since the 1880s, hosting educational and entertainment events for the community. This fall they will host their annual Pumpkin Patch festival all month long, open to the public on weekends with a petting zoo, tractor pull rides, pumpkins of all sizes, and a vintage car show! All activities are held outdoors and are open to the public, check out their Events page for more information!
COMPASS Programs is grateful for our community partners and all the wonderful opportunities to socialize they provide to the young adults in the program. Follow @COMPASSPointCenter on Instagram to get the latest updates about our next Resource Fair focused on Physical Wellness this winter!