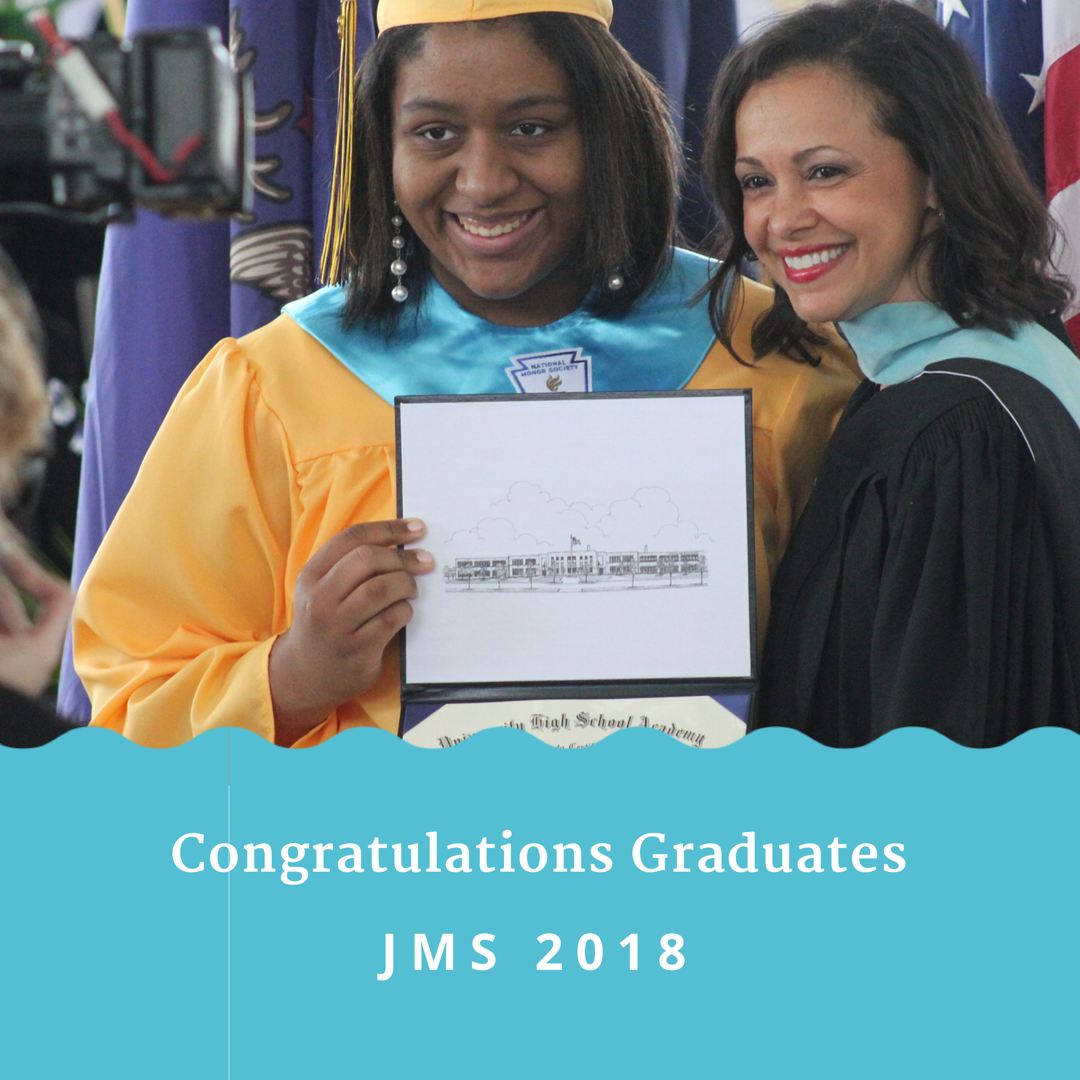 We are honored and humbled by what these two amazing JMS graduates have accomplished, we are so pleased to share their success stories with you. Congratulations Eva and Emily, we look forward to seeing all the great things you accomplish in the future.
Eva came to Joan Macy as an angry 7th grader who had difficulty following a school routine, listening to teacher's direction and getting along well with her peers. Over the course of time, through five plus years of ups and downs, learning curves, and eventual acceptance of the fact that she could truly be a successful student, Eva is the first in her family to graduate from high school.
During this time, Eva has come to embrace math, her once most dreaded school subject. Her strong computer and artistic skills have been put to good use creating yearbooks and amazing woodshop projects. Her art hangs on display in the school office. She has allowed us to see her compassionate, caring side that enjoys friendships made with peers as well as staff. It hasn't always been an easy road, but Eva has learned from her mistakes and is working to prepare herself for her future.
She aspires to work as a pastry chef, which would allow her artistic ability to shine. She has already clocked over 200 work experience hours in the school cafeteria during her time in high school and she has proven to be a hard worker when on the job. Eva is truly an inspiration to those students who think that the idea of high school graduation is beyond their reach. She has already obtained a job in the community. Congratulations Eva! We are all so proud of you.
Next we would like to share a little bit about Emily's journey. Emily came to Joan Macy as a high school freshman who had a lot of dislike for school. She was angry, barreling down the wrong path. She had difficulty with her peers and used a lot of colorful language. She was extremely angry at her district representative who placed her with us.
In the middle of 10th grade, Emily realized she was the key to her own success and pledged to do well enough at Joan Macy so she could return part-time to her home high school by 11th grade. With great determination, Emily set out to meet that goal. She became a model student. Always strong and organized academically, Emily turned her behavior around. She was polite and courteous. She was helpful and kind to her peers.
By fall semester of 11th grade, Emily was attending Joan Macy for the first 4 periods and her home High School for her last 2 periods. She excelled at both schools for the entire year. She earned Honor Roll every month as well as awards at our semester banquets for Top Academic and Citizenship. Last summer, Emily started working in our work experience program. She has worked in The Store @ David & Margaret since the beginning of this school year.
Emily continues to earn straight A's at Joan Macy and her home high school, Honor Roll each month, and 16 Club each week. She assists with the younger students in our school program. We are very proud of all she has accomplished. Congratulations Emily on your graduation.! Emily plans to attend Pasadena City College in the fall.