Capital Improvement Fund
The Campaign for David & Margaret, our capital campaign launched in 2015. We are happy to report,  the Cedar Springs Apartments and the Youth Workforce Training Center, have been completed and are changing the lives of foster youth aging out of care every day!  Many of you made that possible. Thank you!
We are now focused on the next round of capital improvements, which include much needed residential cottage renovations and restoration of the historic Whitney Building.  Our goal for 2019 is to raise  at least $400,000 to be able to begin the projects listed below:
We invite you to join other like minded members of our community and change the lives of youth in foster care. You will be be helping them create a better future for themselves and for our community.  

Creating spaces that are welcoming, safe and with access to supportive services is invaluable to youth who may not have other options. Your gift will give them that safety, belonging and hope. 
A little more about what this phase of the capital campaign will accomplish:
Restoration of the Whitney Building - The Whitney Building was built in 1932 and is the oldest cement building in the city of La Verne. Initially it served as an orphanage and was the primary building on campus. In the 1960s the agency received a large donation that allowed for four cottages to be built on the property, moving the youth out of the large dormitory style setting to smaller, more homey cottages.  Two other cottages were added later and a home that used to house the Assistant Director was converted to a cottage.  Today, they still provide a safe space and a nurturing environment for youth in foster care. They are also undergoing improvements (see below). 
Once the children left the Whitney Building it left basically vacant for a period of time until it was was repurposed into an administrative building. In the 1980s much of the building was leased out and many interesting improvements were done by the tenants. In the late 1980s the Bargain Boutique store was launched and took over much of the first floor. The Bargain Boutique provided deeply discounted items to our community and provided revenue to support the programs of David & Margaret. In 2017 the Bargain Boutique moved to a beautiful new building on our south campus and was renamed The Store @ David & Margaret. This has left the first floor of the Whitney Building largely unused and in need of renovation. 
During this time period the programs at David & Margaret grew to meet the needs of the community and as a result the staff has grown from 100 employees to almost 300 employees. There is a need for new spaces for programs, family visitation rooms, training rooms and administrative offices. In addition, given the age of the Whitney Building there are many upgrades and improvements needed from:
redesign to maximize the space and utility
updating electrical
replacement of plumbing and sewage pipes
repair and where needed replacement of HVAC systems
bathroom remodeling
ADA accessible spaces
creating ergonomic and productive work spaces
interior and exterior painting 
and more.
The maintenance and improvements of this historic building can't happen without you!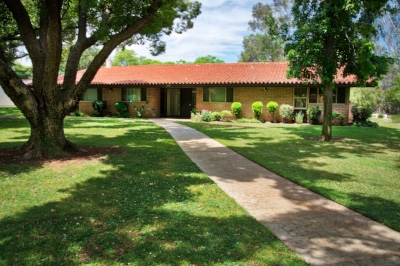 Renovate Cottages - The cottages offer residential services to approximately 275 females per year - age 11 to 17 - from the foster care or juvenile justice system. Each cottage serves a maximum of 10 girls at any given point in time.The first cottages were constructed in 1964 and each requires renovation to address normal wear and tear, increase energy efficiency, reduce day-to-day maintenance costs, and make them feel as much like home as possible. The cottages are intended to provide a structured home-like environment to support healing from trauma, abuse, and neglect.
Renovations will include:
removal of acoustical/popcorn ceiling
interior painting
bathroom remodeling
replacement of plumbing pipes
replacement of heating
ventilation, and air conditioning systems
installation of attic insulation
remodeling of bedroom closets
installation of window coverings
flooring replacement. 
replacement of worn-out furniture and
new appliances such as refrigerators, dishwashers, stoves/ovens, microwaves, and laundry washers/dryers
Most of youth accessing services at David & Margaret have income below poverty; are at risk of homelessness; approximately 50% of the youth we serve are Latina, 33% are Black/African American, 10% are White, and 7% are other or multiple ethnicities.