Social Workers: The Heart of D&M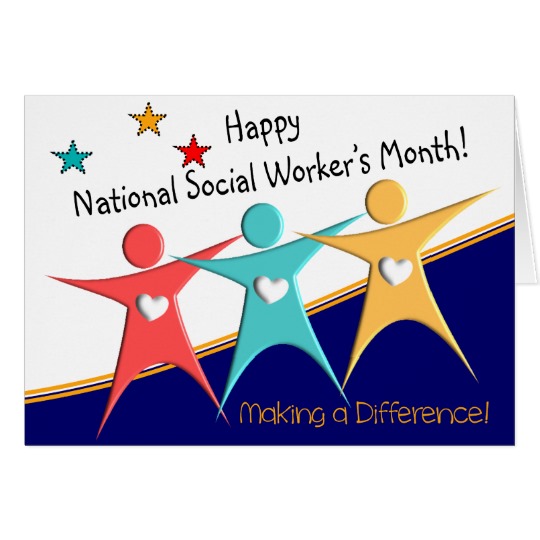 March is National Social Workers Month, and in honor of that, we'd like to take a closer look at the role social workers play at David & Margaret.
Being a social worker is challenging, yet rewarding. Social workers are responsible for helping individuals, families, and groups of people cope with problems they're facing, teaching skills and developing mechanisms for patients to rely on to better their lives and experiences.
Social workers often serve as liaisons between institutions to help individuals and families, as well as collaborate with other health professionals to ensure wellness. They will become familiar with, and refer people to, community resources. Social workers address legal issues, such as assisting with hearings and providing testimony relating to their patients. They also engage in research, policy development and advocacy for services. And of course, social workers must maintain case history records and prepare reports.
"Our social workers are essential to the work we do.  It could not be done without them," says Executive Director Charles Rich, LCSW, of David & Margaret's social workers (see below). "They not only provide essential therapeutic services to clients, but help advocate for and with them in helping them get their needs met."
Our family/child social workers provide assistance and advocacy to improve the social and psychological functioning of children and their families. They help kids succeed to their best ability in school, as well as improve the family's overall well-being. These professionals may also assist parents, locate foster homes, help to arrange adoptions, and address abuse.
Our mental health social workers offer support and services to those struggling with unhealthy coping skills, and teach healthier behaviors and get them back on track. Services that mental health and substance abuse social workers provide include individual and group counseling, intervening during crises, case management, client advocacy, prevention, and education. They also focus on counseling families to assist in understanding and dealing with the individual's problems.
"We don't always understand just how much we impact those we serve, until we hear from them years later and learn about how the services provided by the staff, changed their life," says Transitional Living Programs Manager Marissa Scholefield. "Our goal is to make positive changes to their long-term trajectory. Social workers work hard with long hours, and don't always receive the acknowledgement in the immediate. However, as a social worker, there is an understanding that although we don't always see it or hear it from those we serve in the immediate, we are always planting seeds of hope that will eventually grow when they are ready."
So in honor of National Social Workers Month, we salute our outstanding cadre of professionals!
HOPE ALVIZAR, Clinical Therapist, Mental Health
JORGE ASCENCIO, Social Worker, Foster Family and Adoption
CHELSEA BAZILIAN, Social Worker, Transitional Housing Programs
DENISE BELT, Social Worker, Transitional Housing Programs
AMANEE BENDELHOUM, Clinical Therapist, Mental Health
BESSY CARRANZA, Night Supervisor, Residential
FANYA DANIELS, Intervention Therapist, Residential
VIRIDIANA DE LA CRUZ, Clinician, DUCO
LESLEY FISHER, Clinical Therapist, Residential
MARISSA GARCIA, Clinical Therapist, Mental Health
AMY GONZALEZ, Social Worker, Transitional Housing Programs
ALANA GRIFFIN, Clinician, DUCO
DAVID HOXSEY, Social Worker, Foster Family and Adoption
BEVERLY KOTTKAMP. Intervention Office Manager, Residential
DIANA LAYNE WHITE, Clinical Therapist, Mental Health
CATHERINE LEE, Intensive Care Coordinator, Mental Health
LISETTE MANCILLA, Clinician, DUCO
ALBA MEDINA, Program Manager, Mental Health
MARLYN MEDINA, Social Worker, Transitional Housing Programs
MICHAEL MILLER, Chief Program Officer, Administration
SHARI MOSLEY, Clinical Therapist, Residential
SANTOS OCHOA, Clinician, DUCO
MARITZA PADILLA, Intake Coordinator, Mental Health
TERESA PALOMINO-NAVARRO, Lead Clinician, DUCO
PAULA RANDLE, Director, Mental Health
CHARLES C. RICH, Executive Director, Administration
DEENA ROBERTSON, Program Manager II, Foster Family and Adoption
GILBERT RUIZ, Clinician, DUCO
RANDA SALEH, Clinical Therapist, Mental Health
REBECCA SCHAAL, Quality Improvement Coordinator, Administration
RUTH SCHETTINI, Intensive Care Coordinator, Mental Health
SABINE SHAH, Case Manager, Residential
TRACI SHERMAN, Clinical Supervisor, Mental Health
SHARI STEWARD, Social Worker, Foster Care and Adoption
JENNIFER VARGAS, Clinician, DUCO
KARLA VILLALTA, Clinical Therapist, Residential
WAYNE WOLCOTT, Social Worker Supervisor, Transitional Housing Programs
CYNTHIA YANEZ, Program Supervisor, ITFC/MTFC