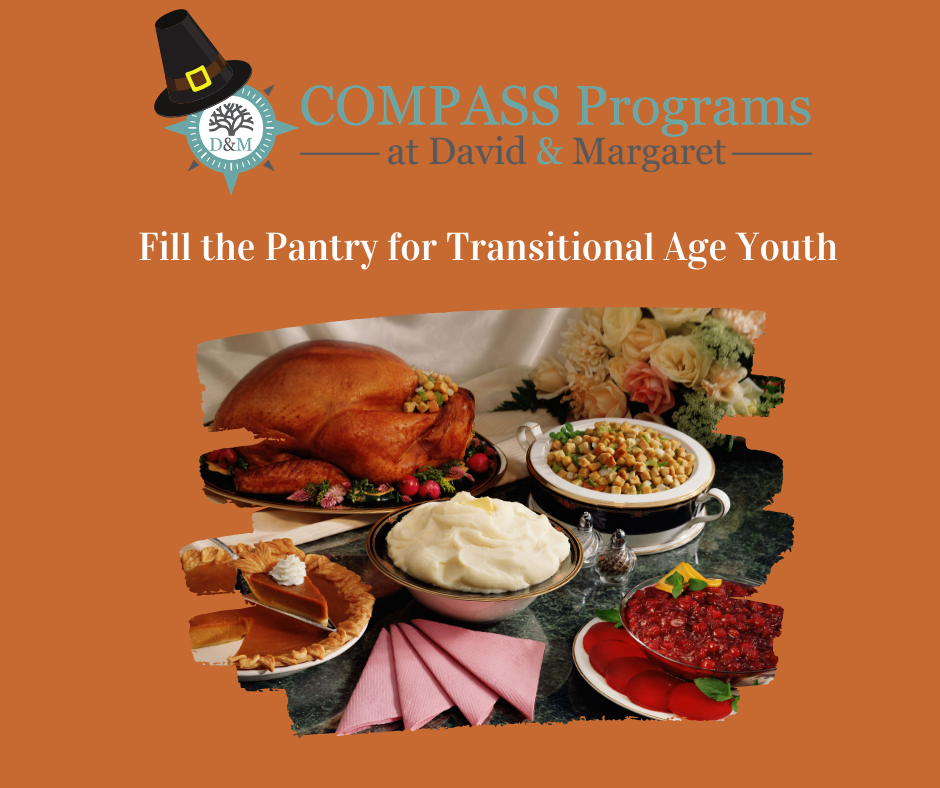 Youth who are aging out of foster care often do not have the support they need to successfully transition to adulthood. The young adults in the COMPASS Programs at David & Margaret are diligently working towards their goals and mastering skills that will change their trajectory. They are actively working to improve their futures.
They do not have a family to spend Thanksgiving with, and often do not have the resources to make the day special. This is where you can help! Please consider supporting the COMPASS Point Drop-In Center Thanksgiving non-perishable food drive! Every donation helps fill the pantry of young adults with ah history in the foster care system.
Donations will be gratefully accepted until Monday, November 23rd at 5:00 pm
Donation Drop-Off Boxes located by:
Dave & Maggie's Center (the store): 1351 Palomares Ave. La Verne, CA.  91750 10 am - 4pm Tues - Sat
David & Margaret Front Gate: 1350 Third Street, La Verne, CA, 91750 9 am - 5 pm  Mon - Fri
What do we need?
Canned Fruit
Canned Veggies
Box of Mashed Potatoes
Stove Top Stuffing
Canned/Jar Gravy
Canned Yams
Canned Cranberries
100% Fruit Juice
Mac N' Cheese
Etc.
All items need to be unopened and not past expiration date.
For more information please contact: COMPASS@davidandmargaret.org